No, I didn't go to SHOT.  And I really don't think I missed out on much this year.  Looking at all the new Products that came out at the 2015 SHOT Show – very little impressed me.
SIG's new Electro-Optics – Very cool. But damn, the market really doesn't need another 1200 ACOG Alternative. Granted – this Bravo 4, is nicer. Better glass, better field of view, yada yada yada… But it's 1200 bucks.  And then there is the Leupold D-EVO. Which is cool and different, but for hell's sake it's a 3 thousand dollar package.
What the Market really needs – are some new good, solid AR type Optics in the 200 to 400 dollar range that don't suck and are not made in China. Is that too much to ask? Has the Gun Industry not realized that we've had a losing economy for the last decade?
You know what I'm sick of?
Teases. Companies that Show us something cool and here's the next SHOT SHOW, and you are still pimping it – and still not taking orders because it's Vapor Ware. Show us what we can order. I want to see what I can have. That being said – I'm also really sick of all that MILITARY LAW ENFORCEMENT ONLY crap. Stop making Fantasy Guns for Storm Troopers and make some Available Guns for the Sheepdogs. What can I buy that I can use to defend my Liberty with? So me THAT. That's what I want to see. Something new and innovative and cool and not too expensive and something that I can place an actual damn order on. THAT's what I want to see.
Glock's new CORE MOS line is nice… Finally that Longslide 10mm we've been wanting.  That's cool.   But not really cutting edge.
The SIG P220 10mm's are awesome.  We've only been asking for that for a Decade and a Half.  FINALLY!  That's almost the coolest thing at SHOT… but we're not there yet.
That Taurus Curve – Stupid.  The TCP with Wings – Stupid.  The View – Stupid.  Taurus – instead of trying to come out with new stupid shit, how about you start making good, simple, solid guns?  How about you try that?
CZ I think has nailed it with that new Scorpion Evo pistol.  Make it a simple Carbine and it would be a real home run.  CZ remains a steady climber in quality and consistency and making guns I would be willing to spend my own money on.
Speaking of spending money… Beretta's 92 Centennial looks amazing.  But it's 3 grand.  Make a regular Bruniton finished version that's… oh… say… Not more than 1200 bucks… make it a regular production item… WINNER.
You know what – That frame mounted safety would sure go a hell of a long way to help silence a fuckton of critics.   But it's only on the Centennial and was on the Billenium.   The A3 should have had that.  That with a Vertec frame… Damn.  I'd buy two.  Seriously.
But you know what the coolest thing at SHOT show was?  For me that is…
This.  The Crye Precision Six12, with the Salvo Suppressor on it.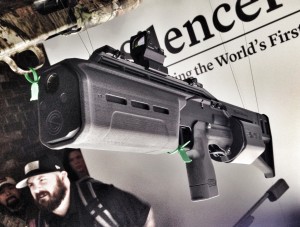 I want that Six12.  That's the coolest damn shotgun – but even then the thing came out last year.  But that Gun Muffler packaged like that… Damn.  That's cool.  So there's that.  The coolest thing at SHOT.