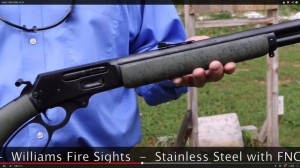 I have to admit – I like the looks.  But there are two things that disappoint.  1.  They are adding some really cheap sights and acting like it's an upgrade.  That's just sad right there.   This is really no biggie though, as I'd replace it the same day I got the rifle.  With this.  It begs for the Lever Rail.  2.  The stock – which is fine on the outside… It's laminate wood on the inside.  I'd rather have seen a sturdy synthetic stock used here to take a pound of weight out of the gun and narrow it up a bit.
It's interesting that they are having FNC do the Finish on it.  I'd have thought Remington would have kept that work in house and use the same finished that they used on the 700 XCR Tactical Rifles.  I don't know what advantage FNC's finish is going to have.  Or maybe… FNC did the finish on the XCR rifles?
Really though – it's just an 1895 GBL with a Green Stock.  I like it, but I'm not excited about it.
What would really excite me though, is if I could get that in an 1894 .44 Mag.   Now THAT would be sweet.