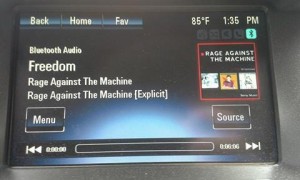 Had an interesting conversation with Mark Walters that made me think.  He was cranking some music from Cracker and piloting his CamAARo down the freeway.  We talked briefly about music and he saw that I had some Rage Against The Machine in my play list.   Mark went off.  He will not have RATM playing in his ride… just like he wont listen to a lot of other Leftist musicians, (Bruce Springsteen) or watch movies staring well known Super Liberals like Sean Penn, among others.   Yet he did make the exception for  John Cougar Mellencamp, a known Liberal supporter.  We all make our lines in the sand and make our exceptions for whatever our reasons… and that's all fine.
While I disagree with RATM politically, I have to say the group has some talent and can really jam.  The music gets me pumped.  Gah… Man… Hold on… I gotta knock out 20 pushups…
Okay, what about film… The actor that played Hawkeye in the series, "MASH".  Alan Alda.  You know him.  I disagree with Alan a lot, but I still like him.  He's a humanist and has very well reasoned excuses for his wrong opinions… but he's thought about them and believes them on a (flawed) intellectual level.  I can respect that.  And I respectfully disagree… So while he's a big time Liberal – I still enjoy his performances.
Sean Penn though – I almost walked out of the movie "The Secret Life of Walter Mitty" when I realized that Sean Penn was in it.   But then I stayed because he at least didn't speak.  (Maybe he did, but I didn't hear him) Doesnt matter.  He wasn't really in it.  Just a couple seconds worth of Cameo here and there.  Anyways… I dislike Sean Penn and can't watch really anything he's in.   Because pretty much I don't care for anything he's in.   It's not like he's in Expendables 4 or Terminator 5… so he's easy to pass on.
But what music or movies are your politically excused guilty pleasures?