I snagged a bike that I saw.  The other bike had carb tuning issues I decided I didn't want to get into, so I brought home a different one… One that runs FLAWLESSLY.  Purrs like a kitten at idle, screams like a beast when I open the throttle.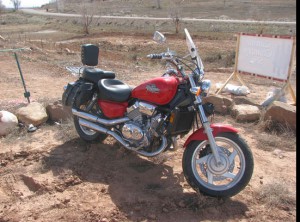 AT LAST!  MY ARMS ARE COMPLETE AGAIN!
This is a Honda Magna, late model.  Almost brand new condition.  Riding her… oh man… feels good.  It cruises beautifully.
My fondest memories on motorcycles was on an 85 Magna.  I was dating the woman that would become my bride, and we would cruse all around Provo and Orem on that bike.  It was beautiful.  Cool bike, gorgeous girl on the back with her arms wrapped around me… I felt like a billion bucks.  She loved it too, because I'd look back at her, and she'd be grinning.   The bike was a really deep dark blue that most of the time just looked black.   We made some fantastic memories together on that bike.   When I sold that bike… man… that was a sad day that I've regretted ever since.  And really when I was thinking I want another bike – what I was really thinking was that I wanted those moments in time back.
One thing I'd like to do to it… find a bigger fuel tank.  3.6 gallons is small, and I want longer legs for the bike.  The other thing is the Mustang Seat, which the guys I bought this bike from has.  It's a seat that is universally regarded as superior for longer rides.  The seat and a bigger tank would allow this bike to go around the country.