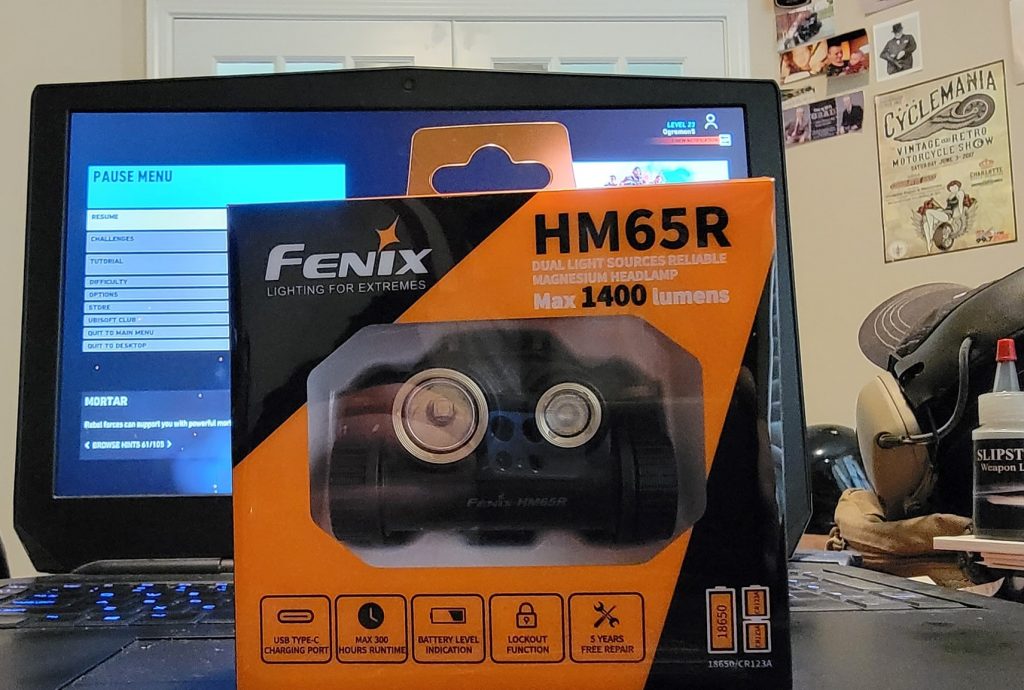 I've found Head Lights to be incredibly useful when out camping or working at night outdoors. Or even just under the hood. It beats trying to hold a flashlight in your teeth and untrained assistants always seem to fail at keeping the light where you need it.
One of my favorite types of flashlights, are the tiny little LED clip lights that you can clip to the bill of your Ballcap.
These little lights are pretty handy. But they have a couple problems. First, is that they put out very little light. Second, is that the cost of the battery is about the same as just buying a new one… So I tend to go through these like a can of Pringles. I often buy them several at a time for that reason. The last bit – is that you pretty much have to be wearing a baseball cap for these to really be useful.
This is where the Fenix HM65R really shines. Because it resolves all the little light's shortcomings. Number one, being the Shine. This thing is… well, the Technical Term is "hella bright". Compared to any other headlight I've ever used – and I've used my share… this thing is the brightest. It puts out an impressive 1400 lumens of clear bright light. And Max Output is actually too bright for a lot of things I use headlamps for… Luckily, Fenix gives you control over that.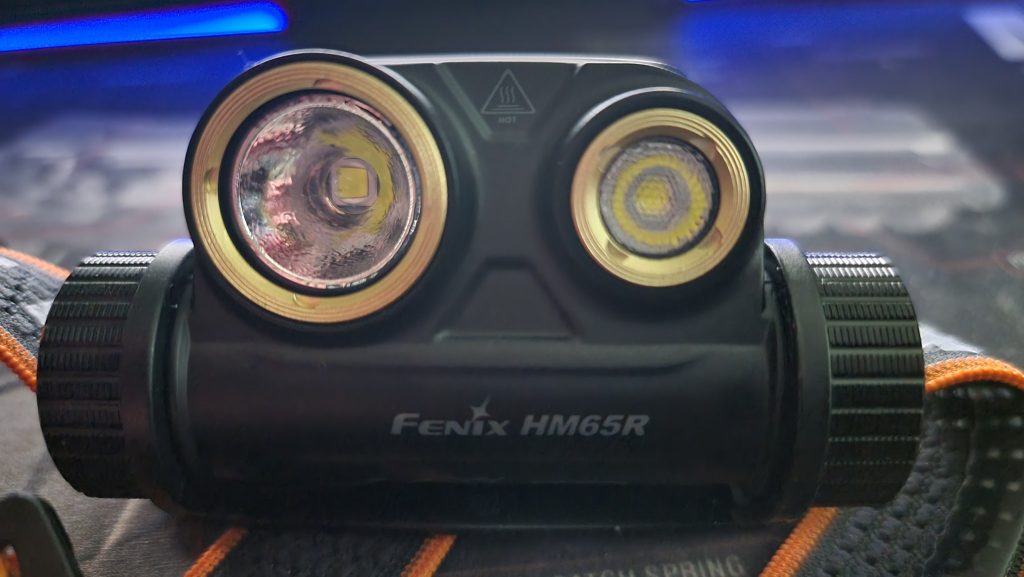 The two LED Lamps are controlled individually, and both or either can be used together or not… all depending on how much light you wish to project. Each lamp has a different spread of light settings that you can toggle by tapping the lamp's respective activation button. Press and hold to turn on and off, tap to cycle through the light modes. There are no goofy strobe modes, thankfully. I've never been out in the woods and thought, "You know what this situation needs? A flashlight Rave."
The smaller lamp has the lowest mode at 8 lumens. Which is still brighter and clearer than the little clip light. And in that mode, the battery life is a crazy 300 hours. Medium, the light puts out 130 lumens for 50 hours. High is 400 lumens for 21 hours.
The larger lamp has four modes. Low, Medium, High, and Turbo.
50 lumens for 97 hours, 130 lumens for 42 hours, 400 lumens for 22 hours, and 1000 lumens for 4 hours.
Using both lamps together will give you that 1400 lumen output for about two and a half to three hours. But really that's brighter than a Street Light and everyone around you is shielding their eyes and cursing you, so you might not want to do that very much anyways.

I'm not showing any night shots of the light output due to current camera issues. Will update this later if that gets resolved soon.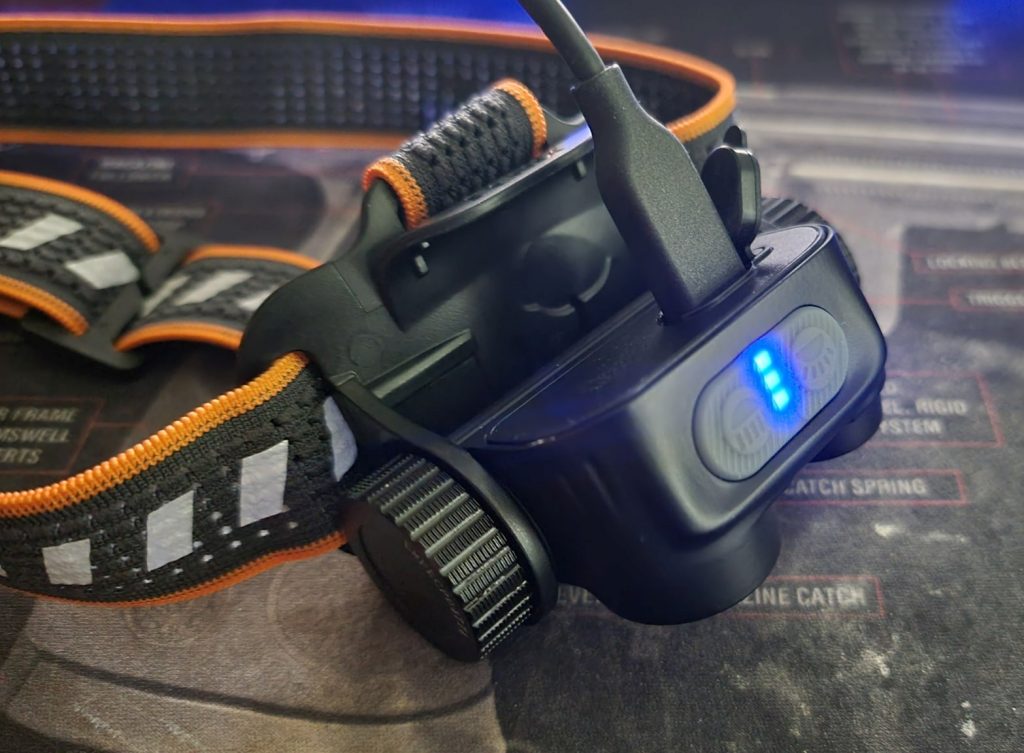 One very nice feature it has is that it's rechargeable via a common USB-C connector. Also, in the photo above, you can see that the angle of the light is adjustable. This is great because just solid straightforward isn't really ideal in most situations, and that's been a complaint of mine of some other headlights I've used in the past.
From what I can tell, recharging is done in a couple of hours using the same charger I use for my Tablet. Using a Rapid Charger might cut that time down… but I find that isn't really all that important in this application. What is though, is a common jump pack can recharge my phone, tablet, and this light, all with a common USB type C connection. That's awesome. I don't like proprietary. Also, the battery pack can be removed and replaced as needed. So if you don't have time to recharge during a Cave Expedition, you can carry spares with you. (Two is One, One is None)
Overall, the HM65R is a solid piece of kit. The materials are of good quality, and it's built for rugged situations. Even the straps. The adjustable straps are comfortable enough without a hat on. and it can be used with a hat too of course, as shown.

It's just under 3.5 inches at the widest, and it's about 4 ounces in weight (est), and it's waterproof to 2 meters. So you can wear it in the rain with no problem, but it's not for SCUBA use. Which is fine. I don't go underwater anymore… because I know what's down there… * thousand-yard stare* I've seen things. *shudder*
If there is any downside to this light, it is that it is a little bulkier than some, and a little heavier… But that's really only a concern for hikers and mountain bikers and other such weirdos that don't have a vehicle. Because if you're concerned about weight – you obviously don't have enough ammunition with you, so what's your point being out at all? Hippies… I swear.
Overall, I really dig this light and will continue to use it for a good long time.
For more information about this light and other lights from Fenix:

https://www.fenix-store.com/fenix-hm65r-rechargeable-headlamp-1400-lumens/