There's really nothing that I can say about this knife that has any degree of criticism…  Save for maybe Cost.  These are not cheap knives.  However, you really and truly do get what you pay for.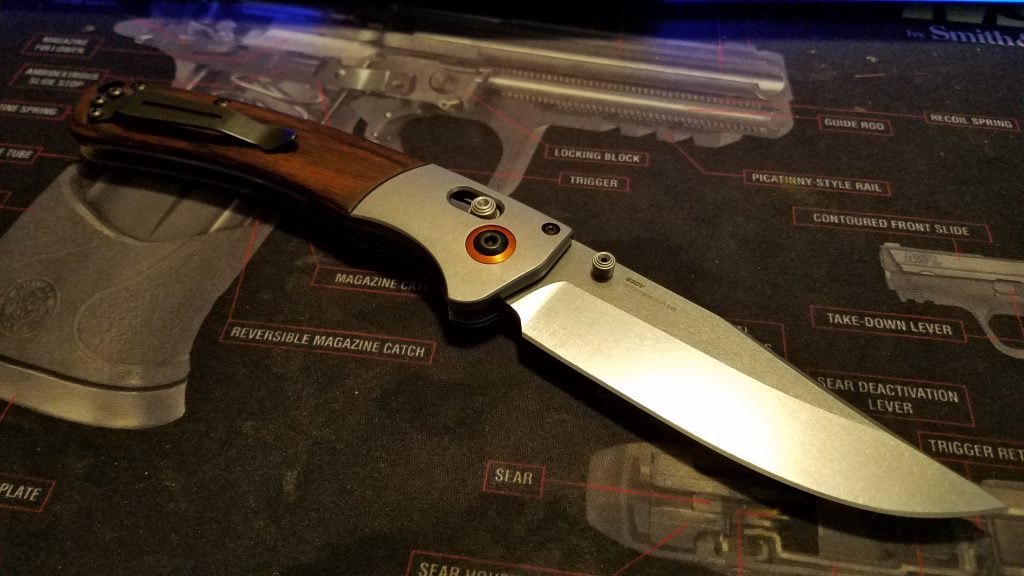 This knife is my personal favorite.  My #1.  I love everything about this piece.  The size, the blade shape, the handle and scales, the materials, the lock… This knife checks all the marks for what I personally look for in a knife.  Wood Scales, Bowie type blade, good length… it just doesn't get any better for me.   When I first saw this knife, I knew I HAD to have it.  But I waited… Because my friends at DNA Guns were becoming Benchmade Dealers, so I wanted to get it through them.  I was patient, and good things do come to those who wait.  So as soon as I could, I ordered my Benchmade.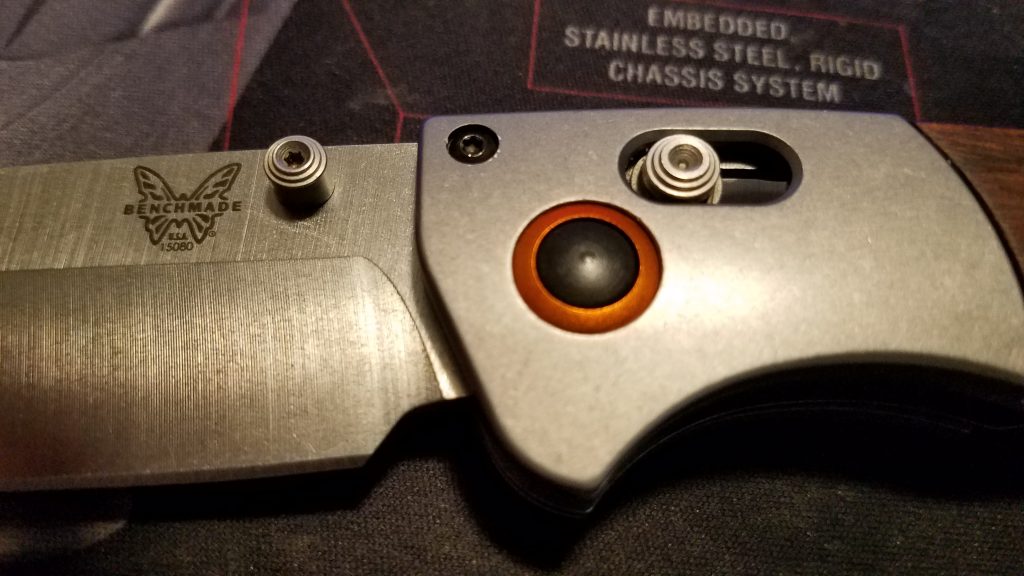 It's not a small knife… Overall, it's 9.3″ long.  The blade its self is 4″.  Folded, it's over 5″ in length.  It weighs 5.4 ounces.  It's a Beefy Knife.
But not too beefy.  It doesn't feel heavy or fat.  This knife is like Gina Carano… Fit and healthy, big, bad, and beautiful… and is fully capable of kicking gratuitous ass.    Not to get side-tracked or anything, but Gina is just amazing… I'd love to see her in more movies like Haywire.
Back to the blades… where was I?
The blade steel is CPM-S30V, which is the best of the S30V's which is one of the best blade steels out there for production folders without making the knife too expensive.  (Generally speaking, because this knife is far from cheap)  I like that they chose to black out the Pocket Clip, keeps everything subtle.  And it's Tip Up carry, the way The Almighty intended folders to be carried.  Also, just in case you are an unclean, filthy mutant, you can move the clip to the other side for left-handed carry.  Or maybe you are packing one in both pockets, and in that case, I salute you, Sir, and must assume this is why Benchmade made the clip reversible.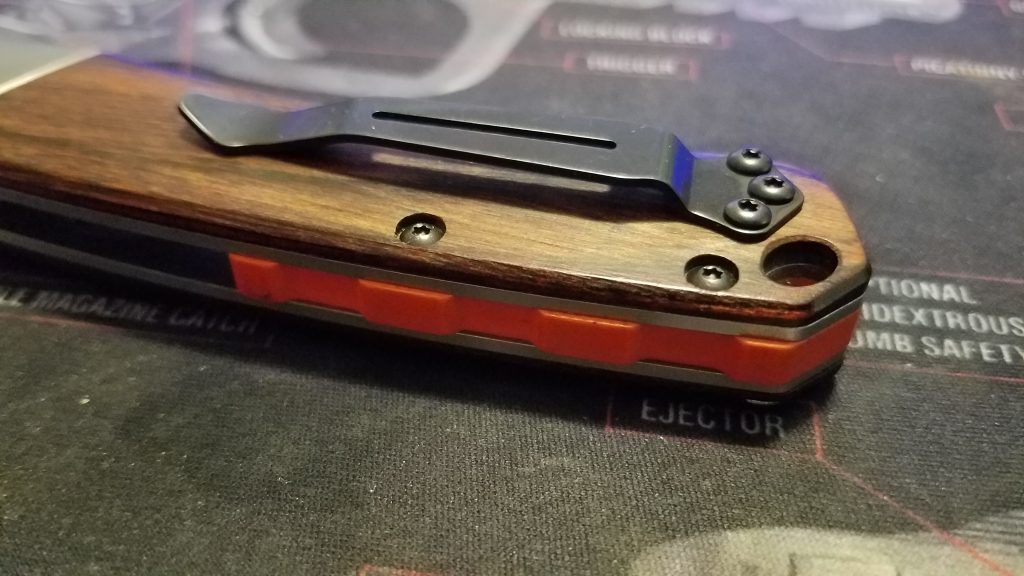 I don't know why… but I really dig the Orange highlights… the ring around the blade pivot and the spacer are both orange, and I'm not even mad about that.  Maybe it's because it just makes this knife so "UnTactical" and I appreciate that.  It's sitting squarely in the Hunter category but can easily perform any tactical application you might ask of it.  And really, what's a Tactical use for a knife?  Well, whatever it is, this 4″ Hunter is going to do a lot better than your average 3.5″ Tactical Folder which seems to be the Darling blade type at most Gun Stores.    This knife just celebrates it's not being Tactical.  Like when a Soldier gets his DD-214 and grows his beard out for the first time.   It relishes it.   That's what I like about the Orange.   Also – it's not too much of it because it's not gone full Cabella's and there's not RealTree or MossyOak on it.  The knife is so Ruggedly Handsome, that it's almost a gentleman's knife if it wasn't so large.  Good looking and outdoorsy and smooth, it's like James Bond wearing a Flannel Shirt.


The Axis lock on this knife is one of the very smoothest out there… I have one other Benchmade that has an Axis lock that is decidedly smoother… But this one is a close second.  The action can allow the blade to flick open with an effortless gesture, snick into place, and be ready for action with a mere thought.  And folding it is as simple as pulling the lock and making another gesture, and the blade folds down as if it was some sort of robotic activated, thought-controlled device.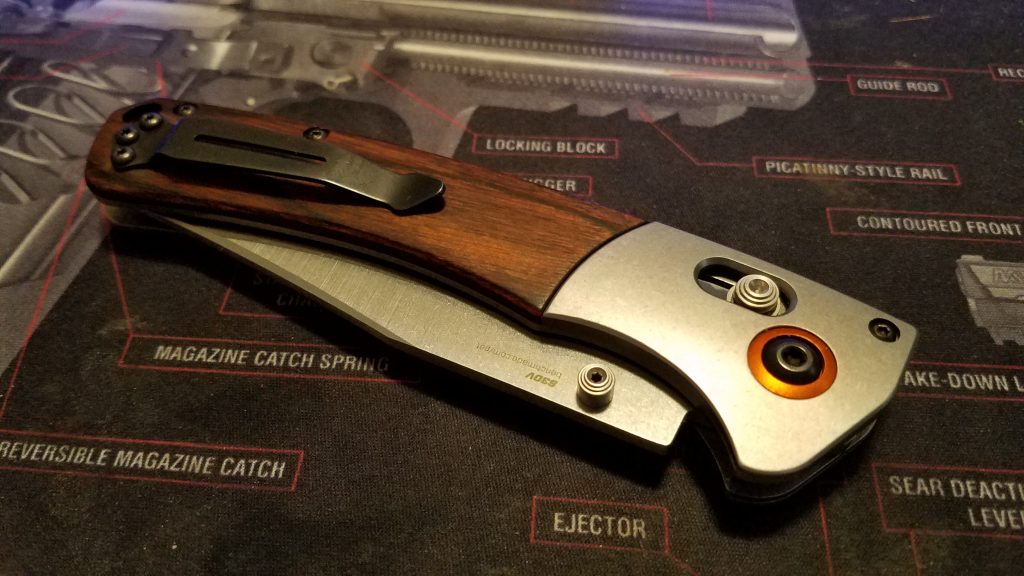 If I was going to level any criticism to the knife, I'd probably say something about the Thumb Studs.  These are my least favorite way to open a knife short of a Nail Nick like on a Case slip-joint knife.  But because of the Axis lock, you really never use the studs anyway so it's a non-issue for me.  So I'm not even going to knock it for the studs.
If anything… there is one problem.  Benchmade now has a Mini-Crooked River out there.  Smaller, Lighter, better for Sunday Carry… And every bit just as good looking.  Maybe a better overall EDC knife.  So the problem is that I might have to get that one too.
For Sundays.
Because Reasons.
If any of you guys or gals wants a Benchmade – I know there are a lot of places to get it from.  Amazon, Blade HQ… But don't.  Ordered it through my friends at DNA Guns.