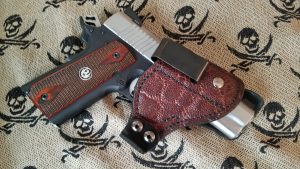 Let's try AIWB again.   Let's call this "Round Two".   A few years ago I tried Appendix Carry using what was at the time a very popular CCW type firearm in a very popular IAWB type rig.  And I quickly found that it wasn't for me.    Because, let's face it… I'm not the young high speed, low drag operator that I was in my youth.
But I wanted to try it again, and I wanted to try it with my personal favorite type of firearm ever, a 1911 Lightweight Commander.
This isn't a gun review so I won't even mention how fantastic my Ruger SR1911 LWC is… But it is.  Ahem…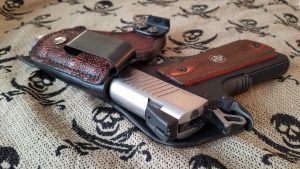 So I had a conversation with my Leathermancer, Lucas Adams.  Lucas has been my #1 Go To for Holsters for the last 7 years? 8 years?  I don't know… But when I get a new pistol that I intend to carry, I talk to Lucas.  He's good.  He's that good.  Even when I actually worked for another Holster Maker (Kydex, so it like, doesn't even count) I still had Lucas make my personal carry rigs.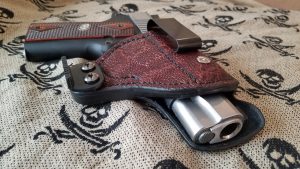 Adams Holsters has an AIWB rig called the "Closing Time", and honestly that's the only reason I even decided to try Appendix Carry again.  Because the method has it's place.  Logically, from a Tactical Perspective Appendix has a lot of good arguments for it.  But I'm not going to go into that here.  That's another subject for another day.  Well, I had asked Lucas for just a simple, basic, Closing Time.  He cheerily agreed to make me something simple.  The results are simply fantastic.


He couldn't help but to splash some hot sauce into it, because he knows my affection for exotic leathers…  Well, once again Lucas surpassed expectations.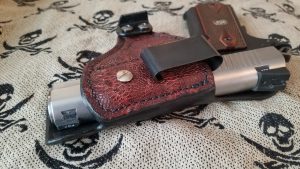 I shall let Lucas explain his rig for me here:
Introduction to the design

My appendix holster draws inspiration from many other designs currently on the market, but it also brings together a unique combination of features to make an excellent appendix carry holster. An appendix holster is designed to be carried forward of the hip on your strong side. So for instance, if you're right handed, it would be carried just to the right of your belt buckle. That is actually where it gets it's name. Closing time for bars is late, after 12 o'clock, and this holster is carried between 12 o'clock and around 2 o'clock on the belt. Of course, if you're a lefty, then it's carried between 10 and 12 o'clock roughly.

Features
Minimal thickness of leather at the muzzle to limit the pressure applied to the inside of the leg.

The "wing" provides a built in cam action which rotates the grip tight to the body making this holster conceal extremely well, even with a large firearm.

Strong steel clip allow this holster to be installed or removed very easily. It is designed to be extremely secure on the belt to insure they never come off during the drawing of the holster.

Full sweat shield to cover the rear of the gun so that it doesn't dig into your side while carrying.

The holster allows a full combat grip on the gun while in the holster. This insures you can grip the handgun correctly at the start of the draw without having to change your grip during or after the draw.

Each and every holster I build is designed and molded for your particular gun to insure it fits properly.

All of my holsters are available in left or right handed configurations.
Here's what I've found in wearing it.  It's not the uncomfortable, "I'm going to die if I sit down" thing I was fearing that it might be… like that other one was…  No, quite different actually.  Now, not being used to Appendix, it took some time to get used to it.  Because it's different.  It's very different than the classic FBI Canted Position that I've just grown up and lived with.   Having said that, I've found that this holster not only is just fine in terms of comfort, but it's been absolutely awesome in some situations.  I'm going to be using this holster a lot more than I had anticipated.  It's probably going to be my Sunday's Best rig for sure.  And well… Yeah, a lot of other days too.  I like it.  A lot.   And even for me not being an AIWB guy, I'm going AIWB quite often now.  Right now even.