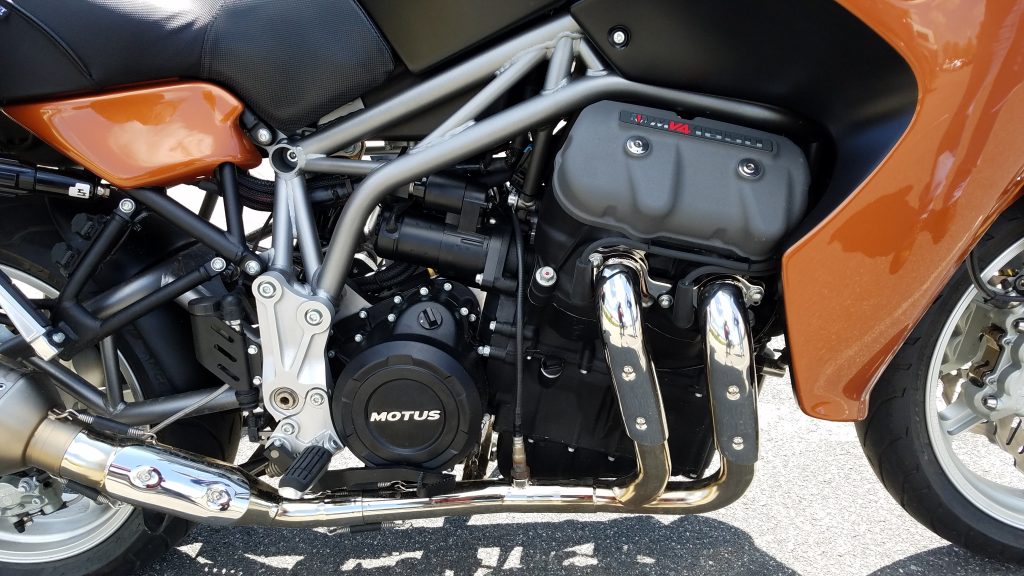 Motus MST.  It's all about the engine.  The engine is the business.  The engine is fantastic.
The rest of the bike leaves much to be desired…  Such as traction control, ride modes, ABS…  For the price, it needs those things.
The Rep said "Well, some guys don't like those things."
I say bullshit to that.  Because this bike is $37,000.00 USD.
Guys at this level of spending do want those things.  That's why BMW, Triumph and Ducati are putting all that Rider Assist Technology into these high level bikes.   Also, when you roll on this much power – you NEED traction control.  Give it the ability to turn it off, when wanted… but it needs traction control and a rain mode.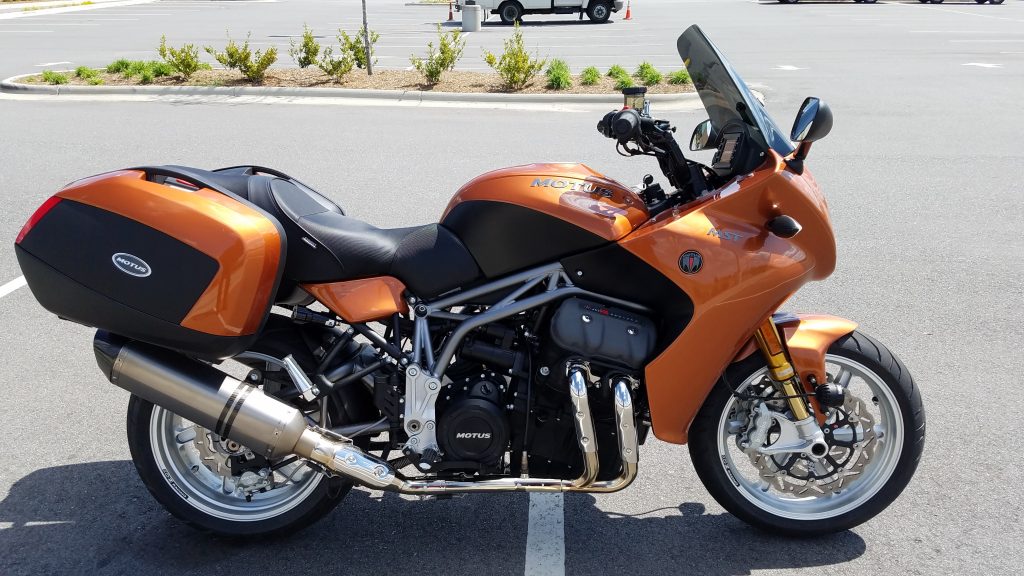 I love that engine.  The riding position is very comfortable, it's like a Triumph T120…  Thanks to the ergos and the Sargent seat… you could ride this bike all day.  Between rider comfort and that amazing engine, the bike has a lot going for it.  Namely 160 horses and 123 pounds of torque on the MST, and with the MSTR you get 180 and 126…  Which is impressive and feels very very good.  But power-wise, it doesn't feel any gnarlier than a Ducati Diavel.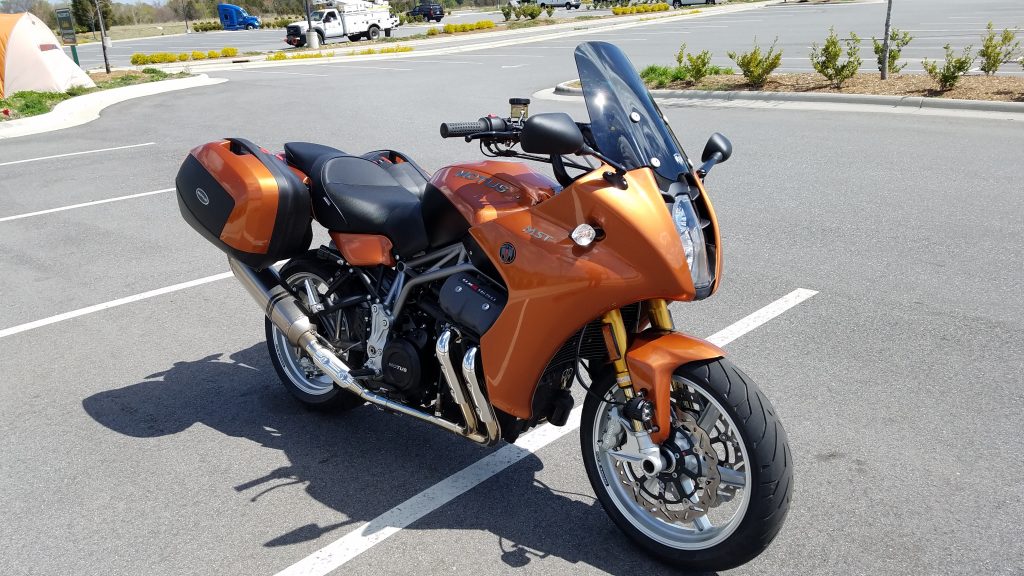 Some things I don't like about it… The bars are very high above the bodywork… It feels okay, but looks awkward. Looks odd from the side, and looks odd in the saddle.
And the wind protection is not as good as it could be. There is some buffeting at speed. And the discount KTM look to the front looks like a discount KTM. The windscreen also looks like it's an afterthought.
The biggest turn off is the transmission. It sounds like an old Ducati Dry Clutch… which I can't stand.   At all.  Once moving the sound is masked by exhaust note and road/wind noise.  I was told that the sound goes away… it doesn't.  It's just drowned out.
The bike needs some refinement. Some design tweaks. And it needs some rider assist technology.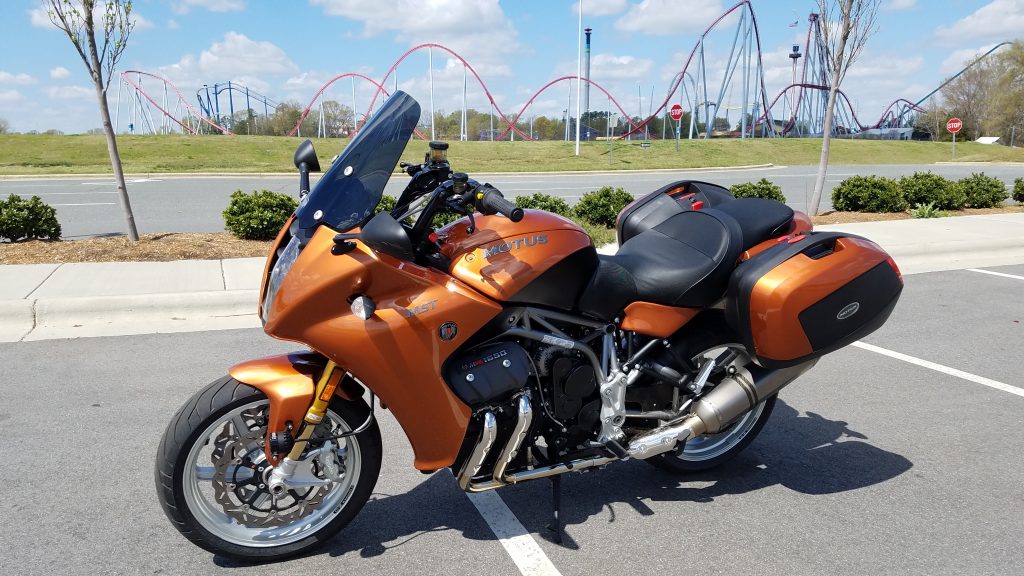 The bike I'd compare this machine to would be the BMW R1200RS. And while the RS doesn't have as much power as the Motus, it's every bit as fast… it actually feels just as fast. Just as quick. Just as agile.  But it's 17,000 dollars cheaper and gives you all the rider technology you could ever ask for.  To put that difference in perspective… You could have a Motus.  Or you could have the BMW R1200RS, and a Ducati Supersport S to go with it.  Both those bikes offer more than the Motus, for less.  Both have selectable ride modes, ABS, and traction control.    They offer those things because people want those things.  That's how you do it, Motus… You offer what people want.  Not some ridiculously slapshod noisy contraption that does nothing special.
I really want to love the Motus… I do… I wanted to be swept away by it. But I'm not. Not at all. This bike would have been a smash hit homerun back in 1990.  But in 2017 now, the Motus is just not there. Not at their price point.  Not at the technology level.
Honestly, I'm very disappointed in the bike.  But not the engine. The engine is amazing. This engine just needs to be in a different bike, with a different transmission.