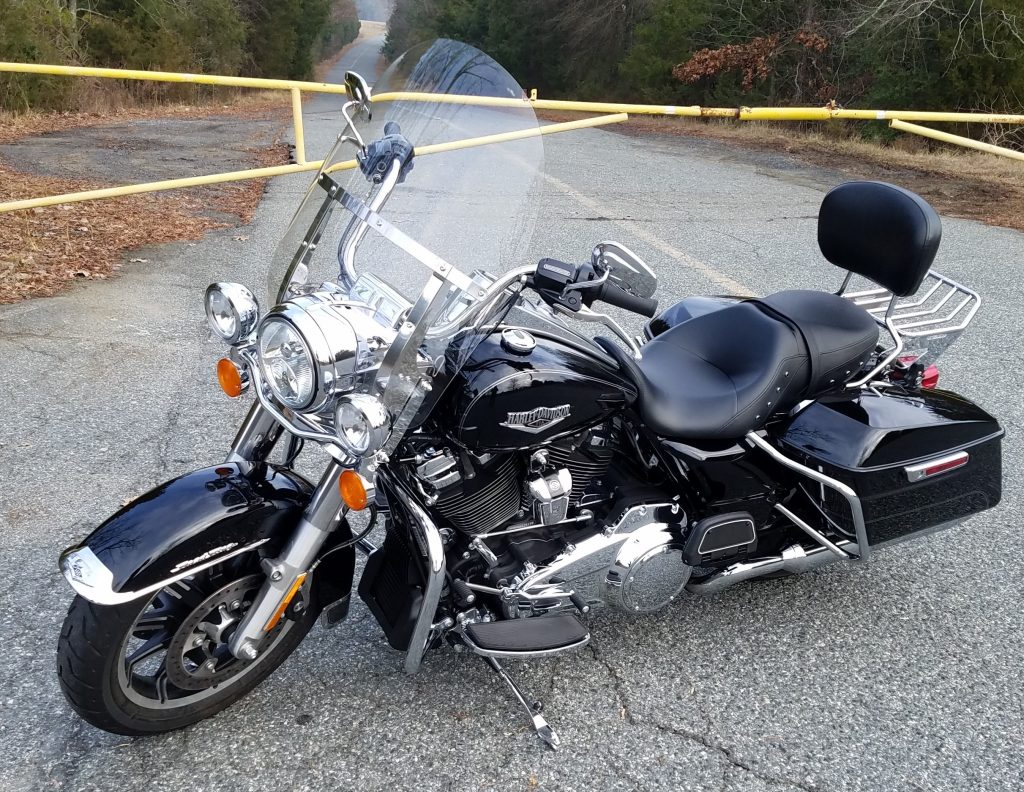 When I was given the invitation to check out Harley Davidson's new Milwaukee 8 engine, I was very excited.  I had heard some very good things about it.   I had my choice of Touring and Bagger bikes, and I wanted to try the Street Glide, but the problem with that was that I had never ridden a Street Glide so I wouldn't have a yardstick to measure this new bike with.  The last Bagger I had ridden was the Road King… So sacrificing new experience for familiar, I had elected to take the most objective path as possible.  And I'm glad I did.  The differences became apparent as soon as I let out the Clutch.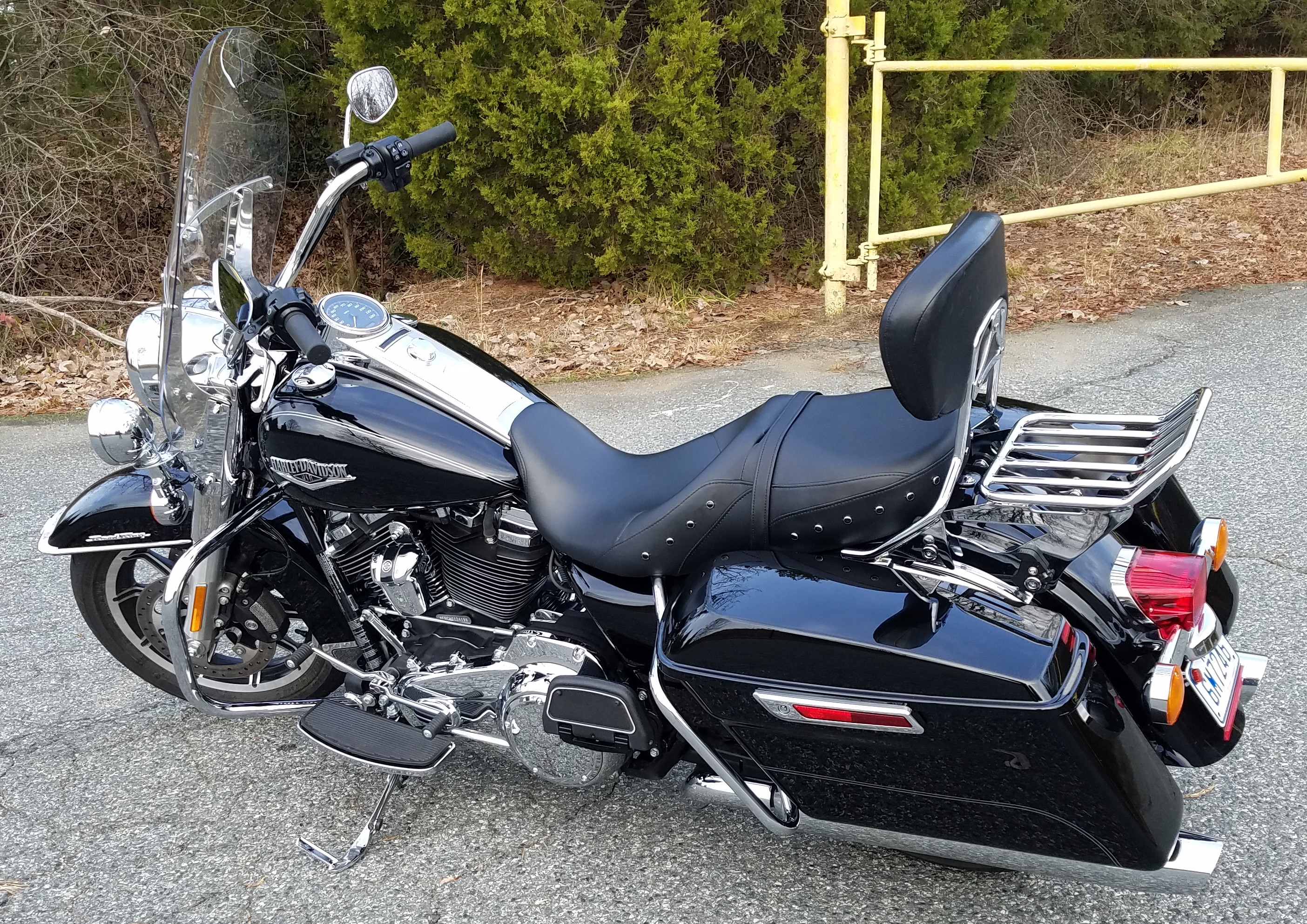 It would be easy to just go over all the technical details, in detail.  But engine specs don't really tell you what the bike is like.  However there is some important details I'm going to give you that backs up what I am about to throw down here.   Right off the bat, my impression was that this Road King, while looking overall similar to the last one I rode, (which was either a 2012 or 2014 model year) this 2017 is a whole new machine.   The Main Course for this dish is the Engine… But before we get to that, let's go over the appetizers that help make this machine so delicious. 
Let's start with the brakes.  In 2014 the Motor Company has really stepped up their Brake Game with an optional upgrade for ABS.  The downside is that it remains an optional upgrade.  It should be standard equipment.   But make sure you check the ABS box when you spec out your new HD.  They are using a linked ABS system similar to what you find on a BMW motorcycle.  This is good stuff and I was very glad to hear this.   What this system does for you, is not just giving you anti-lock brakes… But it makes the brakes work together.  So when you crush down on the front brake lever, you are applying breaking forces to both wheels, and the ABS system will work at both wheels to keep a wheel from locking up.  But if you only stomp the rear brake, you are only getting rear brake force.  To the Rider, this system is completely transparent. You never know this is happening… but it's there.  I believe this is the most important option on the whole list.  Take it.  Now, the brake feel is still on the heavy side.  This should remind you that this is a big and heavy motorcycle.  It is in fact heavier than the outgoing model, by 11 pounds.   Again, get the ABS option.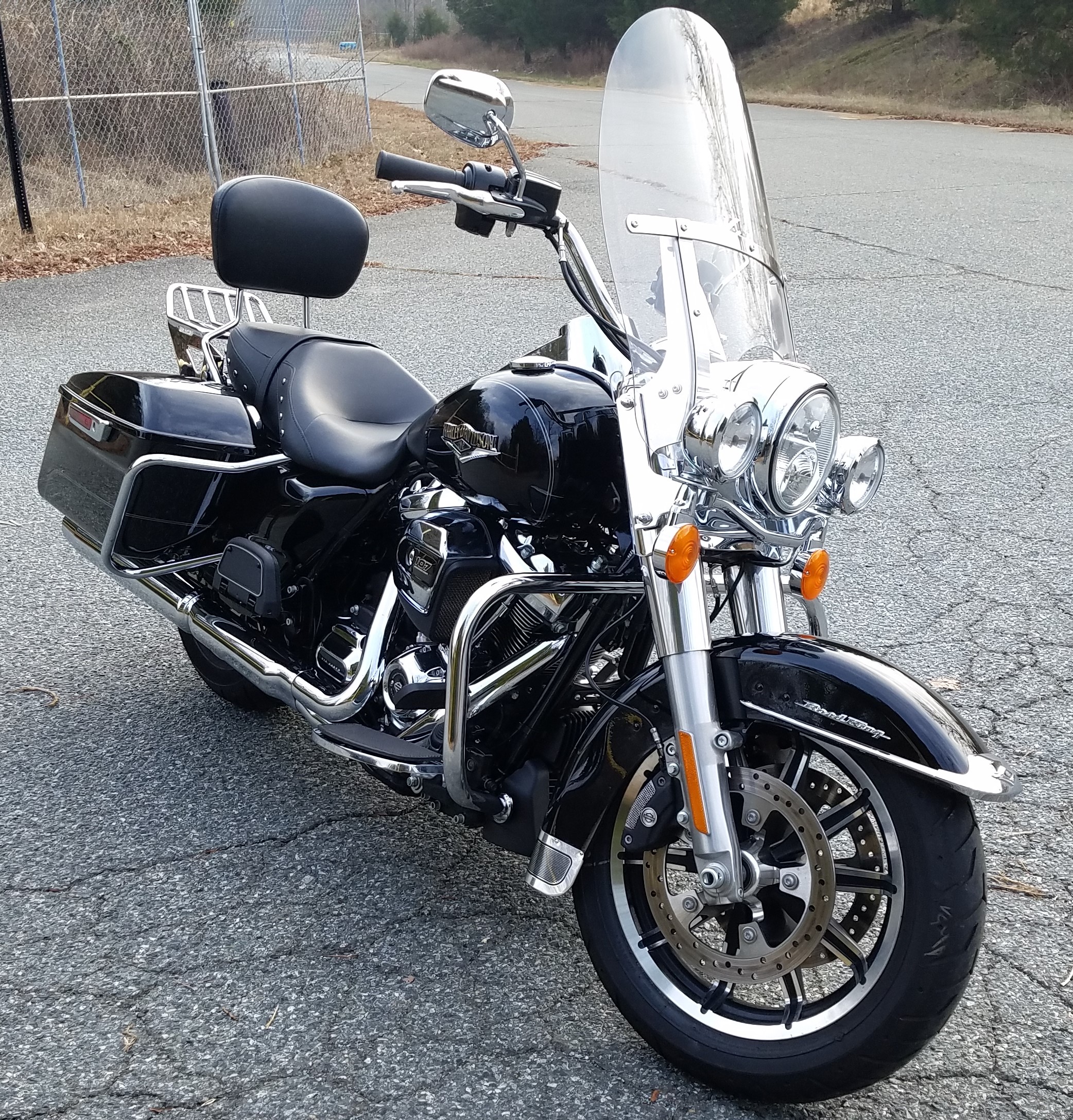 Now let's talk about the suspension.  Up front the forks might not look very different, but inside, they certainly are.  They feel more stable during high speed sweepers, they feel more stable during braking, they feel more stable over rough road surfaces.    At the rear the suspension is new as well.   It's using Dual Bending Valves and I wont even pretend to know what that means… All I know is that they got ride of the air over oil system that never really impressed me on these big bikes.   Regardless of how this new system works, the results were immediately apparent to me.   With new suspension in the front and the rear, the bike feels so much smoother on the road.  It feels more confident.  It flat out feels better.  If you have an older Road King (Note, that the new suspension is in all the new Touring and Bagger bikes) and you have been thinking about upgrading to a new bike… this is reason enough to step up.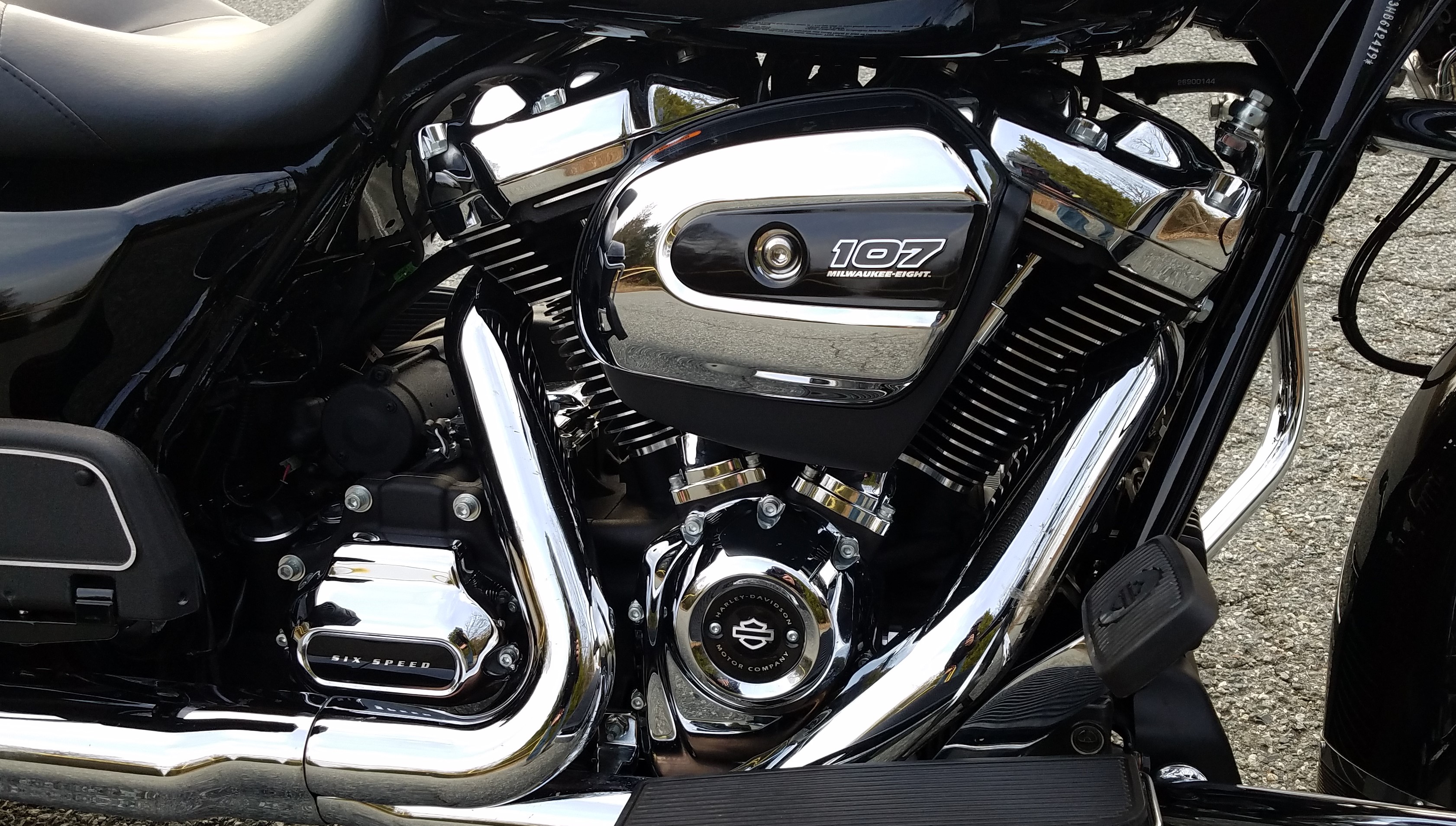 The biggest reason to buy a 2017 is really and truly the new Milwaukee 8 engine.  The new engine is nothing short of Fantastic.  It's all new and comes from a blank sheet on up build.  Everything is redesigned.   Let's start with the name.  The 8 means the number of valves.  Four valves per cylinder lets the engine breath with better efficiency.  More air in, more air out.  In between that cycle comes the ignition and HD is now giving you two spark plugs per cylinder to fire these coffee can sized pistons.  Dual plugs give you a more efficient burn, and since it's lighting up from opposite sides, the time it takes to burn all the fuel-air mixture is reduced.   In short, it's giving you more bang per stroke.    Combined with the better breathing, you have a much more efficient engine that gives you more power and a better delivery of that power.  On paper, this engine is about 10% stronger.  But that's where the numbers don't do the results justice.  There is a dramatic increase is power in the lower revs.  This bike is lot quicker off the line to get you up to speed effortlessly.   Roll on passing power is better too, pulling you from 60 to 80 mph with power and glory that I've not felt in before in a full sized, factory stock Harley.
The engine is not just more powerful… It's also a lot smoother.  Thanks to a combination of both rubber engine mounts, and an internal counter-ballancer, Harley has been able to reduce engine vibration by 75%.  There's still enough shake to let you know you are on a Harley, and you still feel that power that the engine has… But it's much more refined.   Harley could have removed all the vibration and shake… but if that's what you want, go look at a Honda Shadow. This is a big bore Harley, you will not forget that.
Another thing worth talking about is how the Motor Company is keeping all this new power cool.   It's using the new liquid cooled strategy at the exhaust ports at the top of the engine – the hottest part of the engine.   It also uses precision oil cooling in other areas of the engine, and of course good old Air Cooling helps in other areas.  So really Harley has a triple cooling system that works impressively well.  My weekend Ride was very comfortable because of this.  I only got caught in traffic a couple of times, and it was only then that I felt some warmth off the engine.  I never thought "this is getting hot" like I did before on the older Road King I had previously ridden.
Another thing I really liked, and I thought was noticeably lacking in the previous generation, is the new 6th Gear.   This was a very welcomed addition on a long high speed burn across Carolina Interstates.   In 6th, the engine just lopped along with little effort while I was passing traffic like that was my job.  Even at lower speeds, upshifting early into six the new engine didn't make the bike feel like it was lugging in that tall gear.  (Man, this engine is good)
I'll be honest, I have no idea what this cover is, but it looks boss.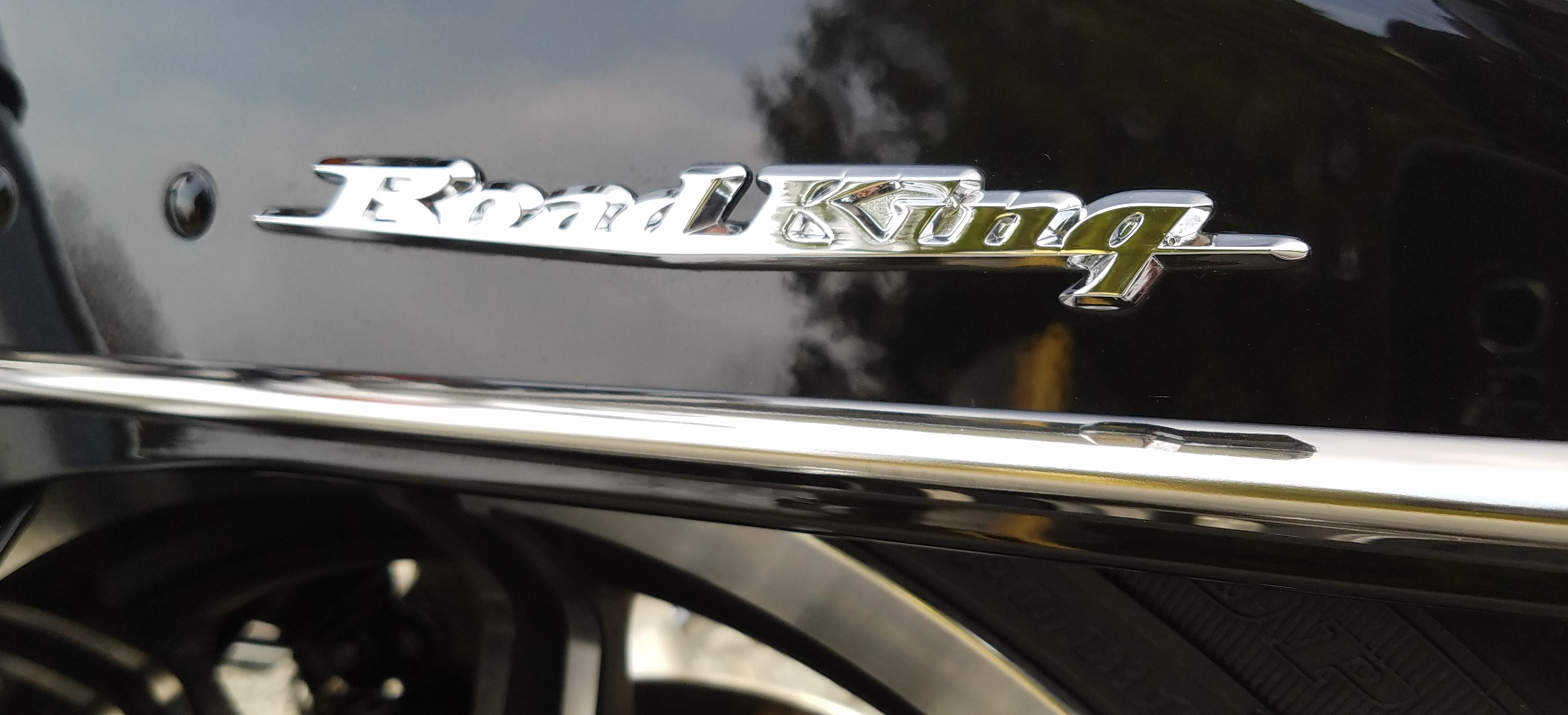 The emblem on the front fender… for some reason I just dig it.  
I'm not one for Floor Boards on a bike, and I'm not used to Heel Toe shifting… But I can see why people like them.  My leg position was very comfortable, even with my shattered knees.   The transmission was very good and never gave me a false neutral or felt "clunky".   So I am guessing that Harley worked some sorcery in there more than just giving at a +1 on the gears.  
The seat though, is the real hero when it comes for comfort.  It gives you a little room to move around on a long ride, but I really didn't feel the need to.  This is a good saddle.
One thing I didn't mention before, the new Road King is feeling a lot more agile.  When moving it feels light on its wheels.   It's almost "flickable".   Transitions between directions happen quicker than the last Road King I rode.  Part of that has to do with the new suspension… but I mention that here because I found that the seat really does a good job of keeping you in it as you flick the bike from one curve to the next.   On a bike that you sit in more than sit on, being able to feel secure and confident and totally comfortable is a good thing.  I love that the seat gives you just enough support behind you to keep you anchored during hard acceleration.  It's also enough to give you some support for riding real laid back and letting your arms stretch a bit.     Your passenger will have a nice back rest as well… and there's a little rack behind her to strap down some luggage.
Speaking of luggage, HD's saddle bags are awesome.  They are cavernous.  I've not looked up the capacity, but it's huge.   But they also look very nice, streamlined, and they really fit the bike perfectly well.   Very easy to open and close.  These are good bags.   Harley could probably make some good money by selling hard bags for bikes other than HD.
Better Engine.  Better Brakes.  Better Suspension.  Better Transmission.  The whole bike is just completely better.  The 2017 Road King is hands down the best Road King that Harley Davidson has ever built.  Yes, it's worth trading up an older Road King for a new one.
I really can't wait to see Harley put their new engine tech into the rest of the Motor Company's line up.  Especially into their Sportster lines.  A 48 with an engine that has 4 valves and 2 plugs per cylinder with some liquid cooling… That makes me excited.