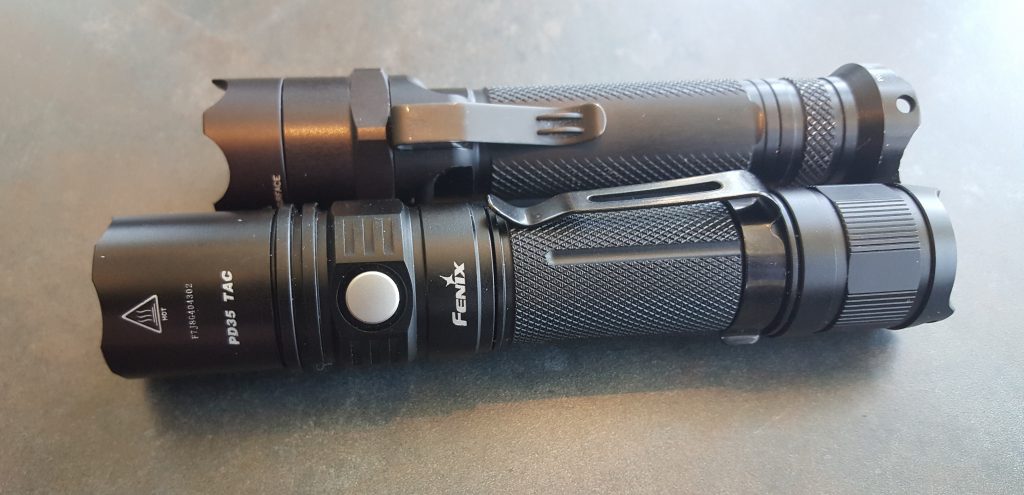 For the last decade, I've been packing a Surefire ExDef as my main carry light.  It's always been solid and reliable.  Simple incandescent bulb, tailcap switch, and pocket clip.  Made from a machined aluminum body with an anti rollaway, impact bezel.  This light has been a constant companion and never before had I thought about replacing it.
Until now.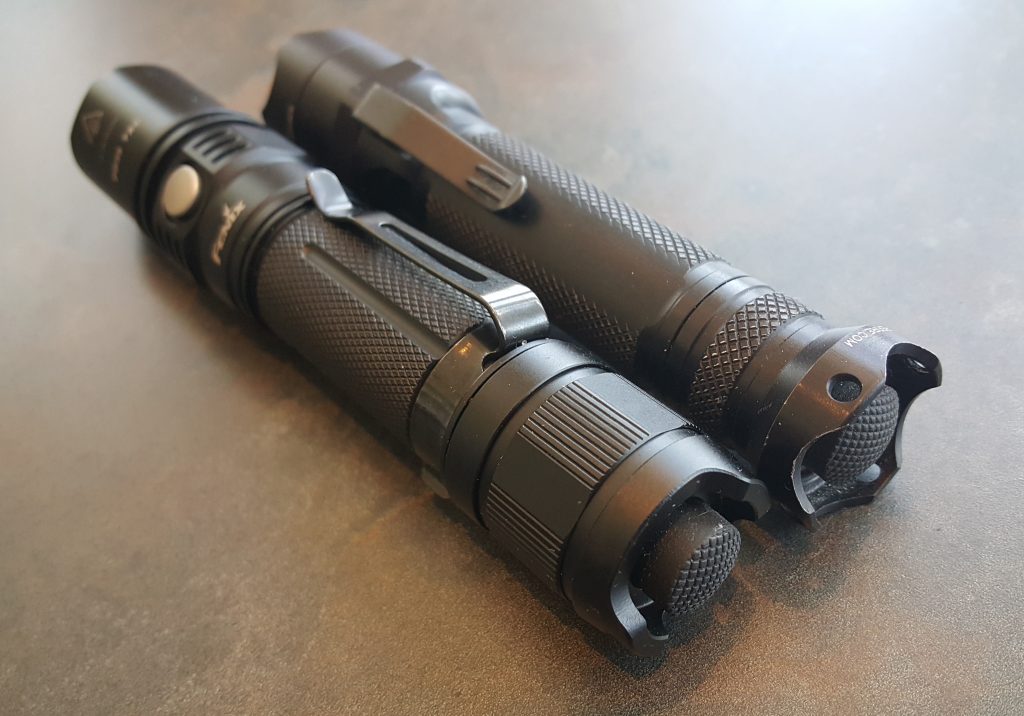 Enter, the PD35 Tac from Fenix.  This light is pretty amazing. I'm not going to get into pricing, as that varies depending on source and the most irritating thing is when some knucklehead always brags about getting it cheaper someplace else…  Let's just say that the PD35 Tac retails pretty much everywhere for around half the dollars I had spent on the Surefire at Fuzzy Bunnie Movie Guns  in Salt Lake City, Utah a long time ago.  The FBMG store no longer exists, but that Light sure keeps on ticking.   Anyway, I digress.  Fenix Lighting US based in Colorado… and let's get this out of the way right off the bat.  They import Chinese made lights.  So yes, the PD35 is a Chinese made product.  Now, let's talk about why you might want it.
Running on common CR123A type batteries, it has 6 light modes that you can change through.  
Strobe.  1000 Lumens, 2 hours (estimated)

Economy.   8 Lumens, 140 hours.

Low.  60 Lumens, 29 hours.

Mid.  200 Lumens, 8.5 hours.  (50 Lumens brighter and 2 hours longer than my Surefire)

High.  500 Lumens, 3 hours.  

"Turbo".  1000 Lumens, 1.1 hours.
One Thousand Retina Searing Lumens.  This is a shocking amount of Lumens.  This is "There should be a Law" level to handle this much Vampire Slaying Light.  It's bright.  In a dark room, it illuminates the room.  In testing to verify the stated runtime on "Turbo", I had to do it in stages, because the light gets hot.  This is a lot of energy being put out and the heat starts at the bezel and pretty soon you are holding the tail cap.  The Surefire heats up about the same though, but only has a fraction of the light output of the PD35.  
To switch through the modes, there is a round gray button on the bezel.  Holding this button down and then tapping it allows you to select the light you want and then it will stay in that mode through on/offs, until you change it.  Set it and forget it.  I like that.  Some lights, you have to cycle through all of them till you find the mode you want.  That is annoying and a total deal breaker for me.  The PD35 lets you have the mode you want once it's set.  
The aluminum body is much much like most other lights in diameter, but seems thicker compared to the Surefire ExDef, but to be fair, the Surefire is unusually skinny for the battery type.  Really the PD35 is about the same thickness as most other similar lights on the market.  So it compares well to the Streamlights and others out there.  
The different light modes offer a lot of versatility in usage.  You don't always need Super Nova mode light output.  In many situations, you don't want that much light.  Such as when you are reading a book at night, or if you are at the side of a road with your hood up.  There is such as thing as too much light… And the PD35 Tac will prove that to you.  The Mid power setting is great for general use.  Most use, Low is perfectly fine.  But every once in awhile, you need Power.   A lot of power.  Law Enforcement.  Search and Rescue.  EMS.  Fire… For you guys, this light is the one you want.  Especially for S&R and LEO's.  Outside on a dark night, 1000 Lumens will reach out and seriously push back the dark.

For those hard use tasks, will the PD35 take the abuse like my Surefire does?  I'm going to have to say yes.   Because I've… well… I've not been kind to this light.  In fact, I've been straight up abusive to it.  It's been dropped repeatedly to the ground from head level.  It's been kicked across my driveway.  It's been run over by my car.  The buttons have been repeatedly mashed hard.  And while the light is scratched up… It's still every bit as functional as when I first got it.
I like this flashlight.    In fact… It has put my old Surefire into retirement/backup status.  I recommend the PD35Tac highly.
Take a look at one for yourself:
https://www.fenixlighting.com/product-category/flashlights/
Fenix has a lot of good Illumination Tools for a lot of different purposes.  They will have one for you.