I don't know why I left SIG in the first place.  Pretty much I left SIG for Glock because sometimes I go into Retard Mode or something.   I should never have left.  I love SIG's and I love .45's and flirting with smaller guns that don't even have hammers – a mistake I shall never make again.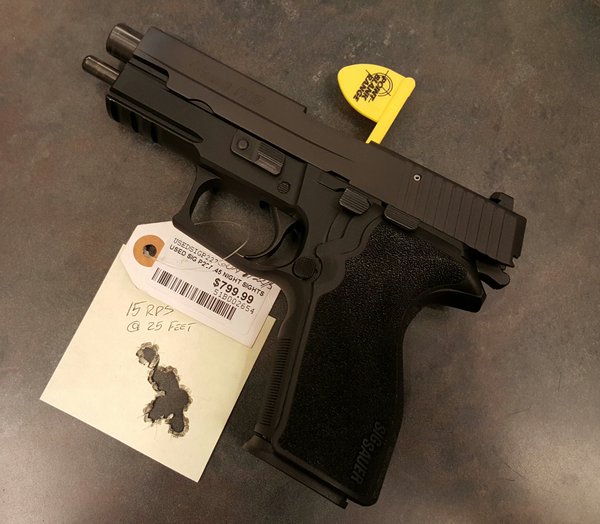 We've had this lightly used SIG 227 sitting in the gun counter for about 6 months now… I had 15 rounds of .45 Auto PMC Bronze on my desk for about that same period of time.
Well, today I put them to work.  HOLY CRAP!  The 227 is absolutely one of the nicest shooting .45's I've ever fired.   It's smooth, super soft recoil, and dang is it accurate.   That is 15 rounds at 25 feet.  No… seriously… 15 rounds.  I put 10 rounds in the mag, ran the target to 25 feet, fired 10 rounds, reloaded with the last 5, fired them and brought the target back in.  HOLE-LEE-CRAP.
I'm an okay shot – but not this good!  That's the GUN.  The only other gun that's on par with this is the CZ 97B… or $1800+ 1911's.
This made me just fall in love with SIG's all over again.  So much…  There's a used SIG 220 Carry that I've been very tempted about.  This might be pushing me over the edge.