I was driving to work yesterday, sitting in a traffic jam on I-77 really… and listing to Glenn Beck on the Patriot XM.  And I heard an advertisement for Bond Arms Derringers.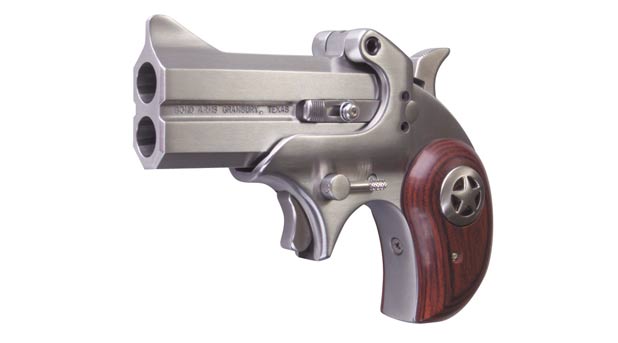 Then last night I was with my wife at Cabela's and she pointed out the Bond Arms and was basically "Oh look, Shiny!"
Here's the thing about Bond Arms.  They do make the best Derringers on the market.   They are built with high quality standards, good materials, and with an excellent fit and finish.  I've never seen a bad one.
But I've also never seen one I'd actually carry for Self Defense.  They are thick and they are heavy.  They are solid chunks of steel weight with two holes drills through them.  They are as thick as a Double Whopper With Cheese.   And for all that size and weight, you only get two shots.  Now, I understand the reason for all that beef… Because you can change barrels and change calibers… tons of options for that.  But every option leaves you with just two shots.
Two from a gun with horrible sights and a horrible trigger, that has to be manually cocked.  How you get a terrible trigger pull from a Single Action Trigger is beyond me.    Combine bad sights and a bad trigger with only 2 shoots and you get something that's very much Less than Ideal for actual self defense use.    Put that in a package that's so thick and heavy – you will not be carrying it very often.
Bond Arms looks Old School Cool.  And they are.  Just don't be buying them for actual self defense use.