I really wish SIG had an M-11 Legion edition.  I've been thinking about SIG's more and more lately.   I sold a P229R the other day and it's just reminded more and more how much I enjoyed shooting my 229R and how much of a mistake it was selling it.
I admit to be very smitten with the M-11 pistol  (P228) and that itch to get one is getting very… itchy.  The new 229 pistols and the M-11 are the same pistol, the M-11 just doesn't have the frame rails.
The enhancements on the new Legion series – I really dig.  And quite frankly, I need.  I love the color of the finish, and grips are just cool.  The extra checkering, yes, I'm a fan of it.  But most importantly is the big bright front sight post.
I need that.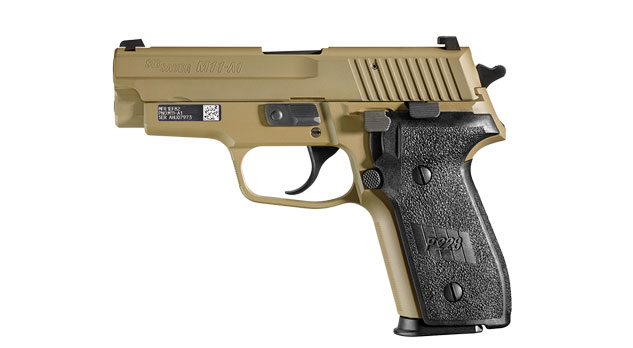 Any SIG 22X pistol (Any SIG model that starts with 22) is a Shooter's Pistol.  They are exceptionally accurate and reliable, hammer fired and made of metal, the way I like it.  The double action pull on most any SIG 22X is very good.  Not too heavy, not too long for DA's.  It's good.  But what's even better is the SA pull.  In Single Action mode -maybe I'm just used to them – the trigger is divine.  And the stability of any of the SIG 22X guns is incredible.  They handle the recoil, with no drama.  Sure, there's a bit more muzzle rise during recoil than say a Glock thanks to bore axis… But the SIG's come back on target perfectly.  And no matter what trigger package I put in a Glock, I can get better accuracy out of the SIG's.
And I like the fact that the hammer is set up in the Rebounding configuration so manual safeties are not a bother.  You don't need them.  Just take your finger off the trigger and/or decock… the weapon is perfectly safe.  It's probably the only semi-auto pistol that I'd feel perfectly comfortable packing Appendix.   I trust the SIG safety more than any other semi-auto pistol out there.  I just do.
There's a thing there… that word.  Trust.   I trust SIG.  I trust several gun brands… but SIG is probably at the very top of that list.