Pre-SHOT Show so not a lot of the newest.  Mostly it's Pre-Shot clearing of older products.  But there was some new things: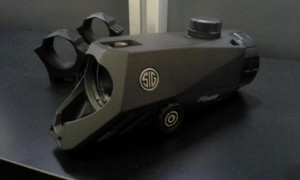 This is SIG's new BRAVO 4 optic.   Much larger field of view than the Leupold HAMR, with brightness and clarity that rivaled ELCAN.  SIG has a whole new line up of Optics and looking through them all… It competes square up against the Leupold HAMR and ACOG. It's a fixed 4 power. HUGE field of view, wider than the ACOG, wider than the HAMR. 4 inches of eye relief – they said – felt more like 3.5 to me… but massive field of view and clarity I've only seen in an ELCAN. It's MAP is about 1299. This is a staggering good optic.
When I asked how they did this – SIG snatched a lot of guys from Leupold. They have a Prismatic as well, called the Bravo 3. And other AR type optics and hunting optics…  Binos and such… 
SIG is doing them right too. These are good. I want one.

This is the CZ EVO… It's very smooth, very cool, and I think I like it more than the SIG MPX.  Especially since the mags are half the price of SIG's.  There is an adapter for a SIG arm brace – which means it's a perfect vehicle for an SBR.
Leupold wasn't just thinking outside the box here.  They threw the box away.  What you are seeing is a small 6 power optic with an objective lens on the side, and the occular lens were your back up iron sight would be.  It's lower than the mini red dot… so you can use the red dot for fast work and tuck in for a more precisely aimed shot.  It's weird and I'd really have to get used to it – but I like the concept.  Optical quality was not that great though – which defeats the purpose.   But hey – it's just a concept.  I like where it's going.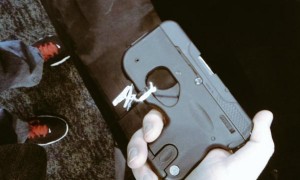 We've seen the pictures.  They don't do the Curve justice.  It's a lot stupider than it looked.  I like they are trying something new.  But they just need to try a better idea.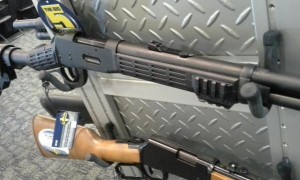 New handguard on the Mossberg 464 SPX.  Thinner, lighter… I love it.  I'll have to order one soon.  Seriously.  I'm going to have to.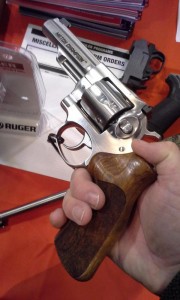 The newest Ruger GP100 Match Champion… Now with an adjustable rear sight.  It feels better in the hand than the photos suggest.  For a Double Action Revolver – I think Ruger found perfection.  I WILL have one.