In Texas, one is not allowed to Open Carry a handgun, but you can a Long Arm.  This has lead to many incidences of guys packing their rifles into places one does not normally see someone packing a rifle.
They do this out of Protest and to try to help promote the Second Amendment.   The problem with this is that it raises many alarms and often cops get involved and it ends up on YouTube, and eventually the location in question puts up notices that no guns are allowed there at all.
I have a better idea.
The ATF doesn't classify Muzzle Loaders as Firearms.    Now, maybe this will work or it wont, but let me through this out there…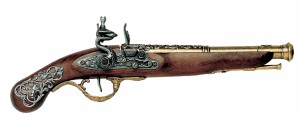 A fine classic Flintlock.   Ornate.  Engraved.  Beautiful.  Quite powerful.  And technically not a firearm.  Ask  Blackbeard if he thinks they were firearms.  Heck, ask Abe Lincoln.  They worked.  They built empires.  But according to our ATF, it's not a Firearm.   Now, don't take what I'm about to suggest and try to run this through some Airport Security.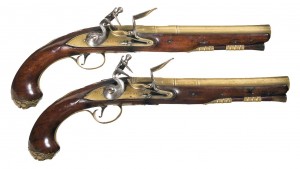 Now, you would have to check with your local legal authorities, but packing one or two of these might fall within the legal loophole and you might be able to legally carry one or two where you would not otherwise be legal to carry a handgun.   Open or Concealed.
Something like this would communicate not just an astute sense of style and alacrity, but would also tender the message that it's okay to have a gun on you – all the while not legally having a gun on you.   And I'm not talking about Replicas.  I'm talking about real working flintlocks.  The real McCoys.  With a pouch of powder and shot to go with them.
I think these pistols look sharp.   You could get a holster like these shown above… (Snatched from a fast and dirty Google Image Search) or you could get something of a belt hook on the gun:
So you could just hang it directly on the belt.  Just don't go all Calico Jack on us: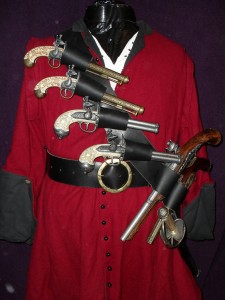 Unless you're this guy.
He can do that… Not you.   I'm not talking about going all ARRGH or anything.  Just take that Flintlock and carry that thing open.   For one, they are cool pistols.  Fun to shoot, and are works of absolute art.  And hopefully it doesn't cause liberals to shiat their britches at the sight of it.  They still might – but since these are not actually firearms according to the ATF – they can't do anything about it.
Maybe.
Just a thought.