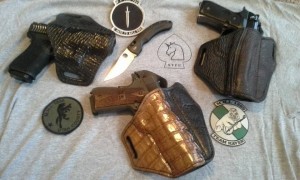 These three holsters are from Adams Holsters.  They are Luke's "Crossroads" holster in exotic leathers.  Top left is my Glock 23 RTF2 in Shark hide.  The top Right is my Beretta 92FS in two different Shark hides.  A subtle two tone that looks very sharp.  The bottom center is my Springfield 1911 GI in Gator and Elephant.  (Legally imported Elephant hide)
The Crossroads is just one style of holster Luke makes.  These are a pancake style outside of the waistband holster that carries a heavy gun quite comfortably.  It's my favorite for that reason, because when I wear a gun, it's from pants on to pants off.
The "Gatorphant" Crossroads is my newest that just arrived the other day.  I've been wearing it constantly of course.  The GI 1911 is a heavy pistol and I've found it to be less than comfortable in other holsters.  In the Crossroads though, I've had no problem with all day packing.   I know I've talked about it before, it I wanted to take a group photo.