Appendix Carry is fad that I wish would go away.
The 4 Rules of Firearms Safety:
1.  Handle all firearms as if they were loaded.
2.  Never point the gun at anything you're not willing to destroy.
3.  Keep your finger off the trigger and out of the trigger guard until you have made the decision to fire the weapon.
4.  Know your target, and know what is beyond the target.
These 4 rules are pretty simple.   But with Appendix Carry, you violate Rule #2.  I can't get past this.  Forgive the crude language, but I hate the fact that when I tried Appendix Carry, I was muzzling my Cock and Balls.  Should an accident have happened – it would have been a Contact Shot.   WARNING: The LINKED TEXT is GRAPHIC:  I've seen the photos of what Contact Shots do to human beings, but never one that happened to a man's Junk.   This filled my mind with graphic images that I wish never popped in there.  Horrific.
I know that I have friends that carry Appendix, and I have friends who teach Appendix Carry.  Because the position does offer some great tactical advantages.  It really does.  The speed and ease of the draw is an advantage.  Easier draw from awkward positions.  While driving.  While laying on either side.  Drawing with the weak hand.  Yes yes yes… I know all of this.   It makes sense.
But then there is Rule #2.
You see, in the more traditional position of 3:00 or 4:00, should an accident happen… a Negligent Discharge… The results are usually a visit to the hospital for a session of Shame and Stitches and you are back out again.  Because nothing vital was destroyed.  Usually.  Not always, but most of the time.  I personally know two guys that ND'd from the holster.  I will not say the names… They know who they are.  One, the weapon was at the 3:00 and the bullet went in and out of his leg.  He was out of the ER in 2 hours and on his feet the next day.  The other fellow was packing at the 4:00 position and he suffered a Flash Burn to his Ass.   No ER visit.   As they had been considering Appendix carry before… I asked both fellows how they would have faired if they had been packing Appendix.   There was much uncomfortable silence  as they both considered the results of a Ballistic Castration.  No, neither of them are packing Appendix now.
This isn't just an unreasonable fear.  I remember reading more than one news article about some thug that shot his balls off packing in the appendix position.  Usually with a very sad mug shot to go with it.  But there was another story of a guy – not a thug – and with a holster… in a car with his family.  He didn't survive.  That's not a way that I would want to go out.
So you want the advantages of Appendix, but without the liability… What is the option?   Cross Draw.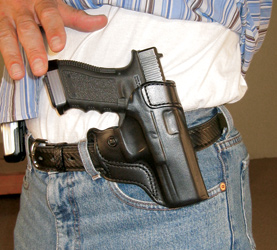 It's not just for Cowboys and Peacemakers.  The muzzle is NOT pointing at your dick.  You can access the gun quickly with either hand.  You have more control over it in a weapon retention tussle than in the 4:00 position.  And it's just badass.  So you get the advantages of Appendix, with none of the liability.    There is a downside though, and that is problem with most cross draw rigs out there… and that's concealment.    But most cross draw rigs I've seen were not designed for concealment.  But there are some.  I believe DeSanti is still making the Skymarshal rig.  And Kirkpatrick is making their Texas Cross Draw rig, which looks excellent.  I'd like to see more Cross Draws come out and I'd like to see less Appendix.