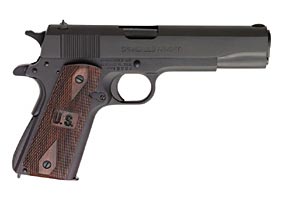 I find it interesting that having worked for a holster company for 10 months, I don't have a decent EDC holster for my 1911.  Sure I have a leg rig.  And an Army Field rig… but I'm not one that I can carry concealed with.  That's most strange to me.  Because I've been working on my 1911 a bit here and there all day long.   Just holding it, gives me some comfort and satisfaction in the beauty of the thing.
Mine is not a fancy 1911.  It's not shiny and it's not gleaming with black tactical pretense.  It is, just what it is.  And that's why I love it so much.  It's very honest about what it is.  Springfield Armory may have discontinued it… the "GI" model, but I think it was a mistake… because for some reason, I think it was the best 1911 Springfield Armory has ever made.
The finish is worn.  In places, down the bare metal.  The wood grips are scratched and scared.  It's heavy, being made of solid steel.  The sights are the old style, rudimentary and hard to see.  The hammer spur is long, and with GI grip safety – it can bite you.  It's not the most pleasant gun to look at or fire for any amount of time.  But it has something else….
Reliability.  I've not had a failure with this pistol… Not a single jam or misfire… and the accuracy has been above par.  I trust this gun.  It's one of the few guns I keep loaded at all times.  (Which reminds me… it's time to rotate the magazines)  It has never let me down when I put it to the test and it has done everything I've ever asked of it.
It reminds me of myself.  I'm not old, but I feel a lot older than I should for a man of my age.  It's not the years, it's the miles, they say.  My finish is worn and so are my parts.  I'm not pleasing to look at, and I'm a bit too heavy, and I can bite when not handled properly.  But I am reliable, and I hit hard, and I hit true.
Getting back into the job market… looking for employment.  I'm suddenly no longer optimistic.  I'm not as young as I used to be, and my family is larger and their necessities are more expensive… Feeding them is a challenge.  If an Employer is like a Gun Buyer… Why would they pick an old ugly GI 1911 when for less money they could buy one of these younger M&P's or Glocks?
Such thoughts have depressed me greatly.  Regardless of that, I'll be packing my 1911 from now until…  Well… I need to find a good EDC holster for this thing.  I think perhaps, I shall make one.
This 1911 is special to me.  It is an almost identical clone to one issued to me when I was in uniform and found myself in a kinetic altercation. The result was both my adversary and myself laying on the ground fifty yards apart.  I credit my armor for saving my life from his hit on me.  I credit the 1911 with denying him a second shot.    This is something that no Glock or M&P has done for me.  And well, this 1911 didn't either, but it is a mirror image of the one that did.  That one was a Colt and had to be returned to the armory.  This clone was made by Springfield Armory.  I consider it to be close enough for a memento.   The fact that it's served so well ever since I acquired it is only a happy bonus.