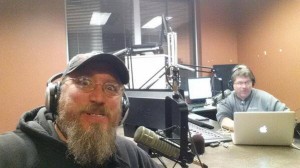 So this weekend I drove to Atlanta Georgia to do Armed American Radio live in the studio.  Normally I call in, but there were people to meet and we've been wanting to do this for some time.  We've been doing AAR for 5 years now and damnit, it was time to be in the studio.
I got there Saturday afternoon… and Mark, being a Pro-Level "Pit Master" had his smoker up to temp with Meaty Goodness ready to go.    A whole smoked, beer can chicken.  Smoked to a deep red color… just beautiful.  Perfection.  Then he treated me to two unusual items.  One, was a Smoked Meatloaf, dubbed the "AAR Gunsmoked Meatloaf".  Guys, this is freaking legit.  I'd order this in a restaurant and not ask the price.  It's that good.  I watched Mark's preparations for this carefully.  I will be making this myself.  Then the other thing was a surprise.  Bologna.  Smoked Bologna.  Forget everything you know about Bologna.  Amazing food.  Mark truly is a Pit Master.  He could open a restaurant.
Being in the Studio is a whole new dynamic to doing the radio show.  It was a fantastic experience and I learned a lot.  I learned some from the radio station in Vernal, Utah… but this was a whole new ballgame.  I really enjoyed the face to face interaction which makes the conversation flow naturally and improves the whole vibe.  This was the best episode of AAR that I've done.  The feedback was very positive and I would love to do this again, and look forward to the next chance I can get.
Listen to it here:  AAR SHOW ARCHIVES. Look for each of the three hours of the 1-26-14 Show.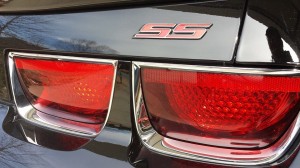 Mark drove me around in this Camaro SS.  A real SS.  The car is BADASS.  Borla pipes, big bore V-8, torque enough to skin Godzilla.  It's a monster.   Rolling around Hotlanta in a murdered out SS… Fun as hell.
We popped some rounds through a few guns, had a great time at that.  Mark wanted to break in his SIG 938 pistol and now he is convinced that I am right when I say that the SIG 938 is the best pistol that SIG makes.