I find it most amusing that extreme Liberals would threat us with physical violence.  They are joking about shooting conservatives all over the Democrat Underground and it's poured out into the main stream.  On CNN they were talking about shooting Alex Jones, and the Chicago Police Chief was actually threatening his Coppers would shoot Licensed Carry Permit Holders.  On "Accident".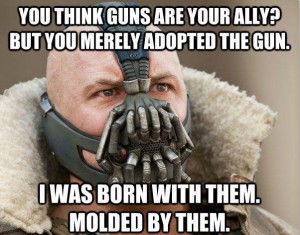 These idiots don't even know what guns are, let alone how to use them.  They do not use them frequently or train with them as we do.  We are the ones with the Military and Police Training and we Train those of us who didn't go the LEO/MIL route, to the point they shoot better than the Police in most cases.  Because it's what we do.   Most of us have a gun either on us, or within close proximity… If it's on us, it's a pistol, and if it's close by, it's a Semi-Auto Sporting rifle such as an AR-15 or Civilian AK-47 type, or a Shotgun.  As a whole, we are not Soft Targets that they themselves are.  They don't think the way we do.   All this while at the same time they would take our guns away from us.
At the same time, we do not need to threaten.  It is unnecessary. Let them puff out their chest like angry sparrows.  They are without teeth.  Maybe a few of them own a gun of some sort.  Let's seem them do an immediate action drill.  Let's hear them tell us what that even is.   They are no threat as a whole… We are Lions and they are Lambs and thus we are not bothered by their opinions.   And as such, we have no need to make a threat.
Like what James Yeager did on YouTube.  He was very angry and not thinking right, and made a threat.  This is the internet and one can not do that without it "getting out".  Before Yeager could take that video down and edit it, it was too late.  The cat was already out of the bag.
Now, I can understand Yeager's frustration… I share that too.  And I give kudos to him for his patriotism and love of his country and his willingness to defend the US Constitution.  But he made a grave mistake in making that threat.  None of us need to make such a mistake.  All we have to say is Two Words.  Two little words convey the entire message we want to say.  It's not a threat.  But it is a promise.
All we have to say is ΜΟΛΩΝ ΛΑΒΕ!  Molon Labe pronounced Molone LaVeigh… it means "Come and get them."  Nothing else needs to be said.