I'm thinking George Lucas must have joined SIG's board of directors.  Check this out.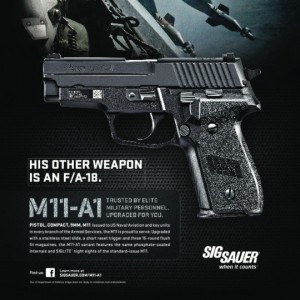 That my friends, is a SIG P228.  I used to have one.  I liked it.  So did other guys.  But not enough to keep SIG making it.  SIG discontinued it for many years.  Then they brought it back, briefly, with the addition of a rail.  Then they discontinued it again.
Now they are bringing it back with the Military Designation M11-A1.  To the Milspec Guys, the A1 designation means it's all revamped to the newest standards.   And now some gun dudes (Not THE Gun Dudes) are getting all mushy about it.  "It's a completely different pistol!" They say.  Oh for the love… No, it isn't.  It's a bloody P228!  If I take my wife's Ford Explorer, scoot the seat back, and spray A1 on the back with Krylon, this doesn't make it a completely different vehicle, it's still a Ford Explorer.  And this M11A1 is still a P228… The same gun everyone ignored for the last 20 years.  But now all the sudden because it's being sold under it's Military Designation, it's somehow better.  It's just a 228.  And that's a good thing.  The P228 is one my favorite handguns… It handles better than a 229, lighter too.  It's a great gun.  But the way some guys are jizzing their pants about this is just crazy.  Where were you guys 20 years ago when SIG dropped the 228?  Because the M-11 has been around since 1989, used by the Military since then… and SIG still had to discontinue it because you guys were not buying it.
Hey SIG, just go ahead and Drop the "P" Designation of your pistols and make it "M".