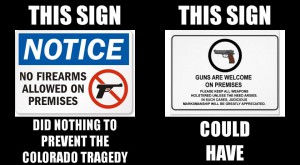 So many people out there wringing their hands about gun control again.  These poor frightened, misguided idiots.  I'd like to slap the shit out of all of them… because it's people like them that have lead us to where we are now as a nation now that has incidents like these.  I blame the Shooter for doing the evil deed, but I blame Liberals for creating the environments where these things can happen.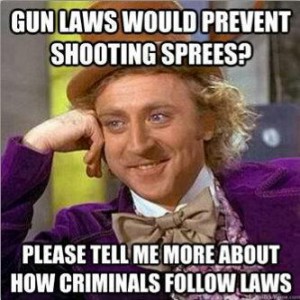 This Theater that the Colorado incident happened, was a Gun Free Zone.  Trolley Square, was at the time of the shooting spree there, a Gun Free Zone.  Columbine High School, a Gun Free Zone.  Every place these Shootings happen – they are in Gun Free Zones or in Cities where the Police actively harass Legal Gun Owners who are Legally Carrying their Guns.  Places where Guns are accepted – These things don't happen.  You Create a Gun Free Zone, you INVITE this sort of thing to happen there.  Because these Psychos are not going to do this at a GUN SHOW – where I am sorry but the "No Loaded Gun Signs" are disregarded by damn near everyone with a CCW Permit.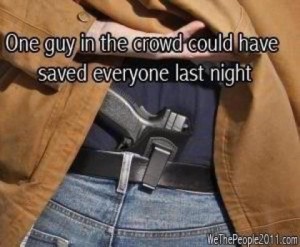 Just one guy could have offered some resistance and could have stopped this event from going on like it did… One guy could have cut this spree short like the incident a few years ago at Trolley Square in SLC. The argument against an Armed Citizen Response is that the CCW Holder could have hit someone else.  Well, yeah, that's true… by Accident.  Because the Evil Psycho Shooter sure as hell wasn't hitting anyone by accident.   This becomes a War of Good vs Evil here… collateral damage does have it's risks.  But evil isn't stopped by running away from it.  Evil is stopped when Good Men (or women) stand up against it.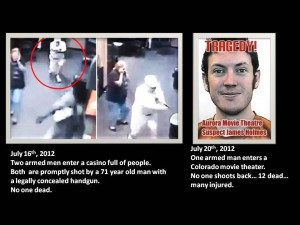 The incident in Florida where one 71 year old guy stopped two thugs who had evil purposes… He fought back and no innocent people were injured.  None.  This old guy is a Hero.  He was armed.  He was not afraid.  He took action.  Right or Wrong – Taking Action is the right thing to do.  Rolling over and taking one in the back of the head does no one any good but the Evil Doer.  It serves his purposes…. that's why he was there.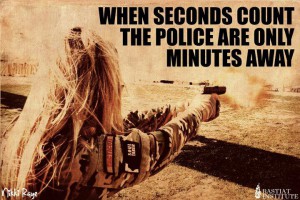 The Cops responded as fast as they could.  We can not shake a finger at them.  They are always behind the 8-Ball in things like this because they have to respond to the call.  See, Bad Guys generally don't do Bad Things right in front of Cops who could put a stop to them.  Sometimes they are stupid enough to do this… but generally they try to avoid cops.  So Police have to go to where the action is and then try to stop it.  Usually they get there after the fact…. after innocent people have been killed.  Also, the US Supreme Court has ruled that the police have no obligation to protect you.  This means you are responsible for your own safety and the safety of your loved ones.  You are the one that must make that stand in the face of Evil.  No one else is going to do that for you.
Taking away guns from Good People only serves the purposes of Evil People.  Even if the Evil People had no Guns… they would have used other means.  IED's are very popular in many places in this world now.  Knives.  Hammers.  Clubs.  If an Evil Person wants to kill – he will.  He could have just got a big heavy truck and rammed into the line of people waiting to get into the movie.  But because he used firearms – Liberal Idiots are making this to be a Gun issue.  It's not a Gun Issue – it's an EVIL issue.  We already have laws against Evil Acts… fat lot of good they are doing, eh?  Killing innocent people is already against the law, is it not?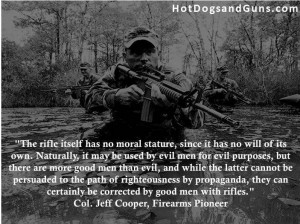 The fact of the matter is that Guns Save Lives.  Dr. John Lott's book "More Guns, Less Crime" should be required reading in every school as soon as the children are old enough to read.