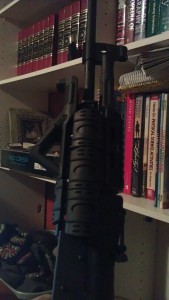 While popping in for a visit to Get Some Guns to test out our Broadsword Rifle, I picked up a MagPul AFG for my Kalash.  At Crusader HQ, I also applied a permanent Slipstream treatment to my AK's bolt/carrier group.  Slicked that up big time.  AK's are never to be considered a Slick Rifle… and this one is still not so much. However, compared to other AK's… DAYUM.  This is one SLICK freaking AK!  I love it.
Okay, back to the AFG… I didn't realize that Magpul now makes two versions of the AFG, the normal one and a smaller thinner one.  For my AK, I went with the Regular Full Sized Magnum AFG.  It fit really well.  It looks awesome and feels awesome.  I love it.  Video review of it will be made soon.
I can't stop playing with this AK now.  I took it to work hoping I'd get a chance to run out to the range on my lunch break to pop some rounds, but that didn't happen.  Instead I pulled off the highway on the way home from work after close – after dark – and drove about 200 yards (honest officer, I thought I was 200 yards) down a dirt road.  Blasted through about 40 rounds of 7.62x39mm.  I wanted to shoot more, but it was pitch black and I had no targets… but man.  That was fun.  AK muzzle flash in the dark is fun stuff.   The gun is nice and controllable and I find that the AFG helps me get into proper position naturally.  I just naturally Vulture Down on the gun.
Did I mention that it looks sweet?  Oh yeah.  It looks awesome.
The AFG solves a problem with using a Vertical Grip.  I have plenty of room to rock out a mag and rock in a new one.  A VFG can block the mag from rocking.   And I want to rock as much as possible… so there you go.