I'm pretty much a fan of Magpul and everything they have been trying to do.  They have made some very good stuff.
Now they have turned their attention to the classic and undying Remington 870 Shotgun.   I'm not sure if I'm on board with it.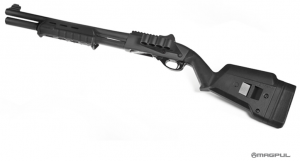 At first, I thought it looked cool… But then as I looked at it, I started thinking that the Cadillac CTS-V styling just doesn't work on the 870. I look at the 870 and feel that it's more organic and the Magpul stuff is just too synthetic.  The stock looks like its too large and possibly heavy.  Awkward.  I don't like the grip angle either.  It seems… I don't know… off.   The MOE treatment is cool up front, but I would have hoped for a more CTR set up at the buttstock instead of what they got going on.