I put an AK-47 on Layaway today.  I'm going to need it come Spring Time!  I've been looking at buying one for some time now, but hadn't found one that I really liked.    Well, I found one.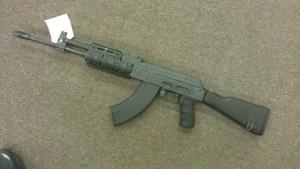 This was built by Cugir in Romania, then rebuilt by M&M LLC. It's been around the block.  Typical WASR10, with some rails and TAPCO stock and trigger, with a Hogue pistol grip.  It actually feels really good.
Crusader is going to be offering an AK Focus course for 2012.  So pretty much I need this, so it's a justifiable expense.  A required expenditure.   Also, this gun is going to be the test mule for Crusader's AK work.  What can we do to the AK that gives any actual, tangible benefit… what is going to be worth spending money on, and what's not.   I don't want to sell anyone on something that's not going to help…  If it's not, we're not going to offer it.
Now, I have some planned work for it.
BattleComp.  Lightning Bolt.  Ambi-Safety.  Slipstream ST-2 Treatment.  Serious Dehorning.  Cerakote finish.
My last Kalash I got was a Vector Arms under-folder from FBMG back when they were in their salad days.  It was a great AK… very good stuff.  But there were things I didn't like about it… Sharp edges, thin finish… it wasn't perfect, but it was very good for an AK.  At the time, it was the best AK I had ever owned, and I have had several.  It's a shame that Vector Arms went belly up.  If Crusader does get into the Kalash Building Business…  this means Utah is going to get a good in State AK again.