The 870 Tactical got stripped… then Cerakoted Gun Metal Grey.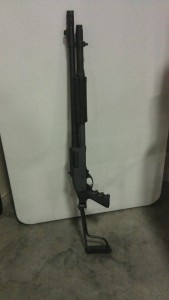 The funny thing about this, was that I did it Saturday night… Sunday morning I woke up late.  So I jumped into the shower, threw on some clothes, ran out to the Crusader Coating Laboratory and grabbed the gun.  Inside, I just slapped all the parts together and we ran out to the Gun Show.  Just before the show starts, I pick up the shotgun again and rack it.  JAM.  WTF?  I look into the action and I see Magazine Spring.  What?  AAahahhh… I forgot the Magazine Follower.  Ran back to Crusader HQ, there's the follower sitting right on the work bench.   I need a new follower though… I don't like the cheap plastic one that comes stock in the Remingtons.  Brownells offers a Stainless one that looks pretty good.  I might do that one.
Also, that "Tactical Choke" as Remington calls it.  It's a breaching choke.  Designed not for shooting – but for Breaching.  I'm going to pop in an Improved Cylinder choke.  Maybe a Modified.  Maybe one of those extended ones.  I like those.
Here's the deal.  HOW THE HELL DO YOU REALLY IMPROVE SOMETHING THAT IS FREAKING AWESOME AS IT IS?  Crusader is doing it… A killer action job that makes the 870 just stupid slick…. but what else does it really need?  What parts can we put on them (or the Mossberg) that is going to actually give you a tangible benefit that makes the weapon more effective and the user more efficient with it?  There isn't a lot.  Oh, there's tons of options for you… catalogs full of stuff.  But what really works?  Not much.  But my mission is to find it.