The Firearms Blog has posted a bit about polymer cased ammunition.  Check it out here.
At the last SHOT SHOW's Media Range Day, I observed some of this.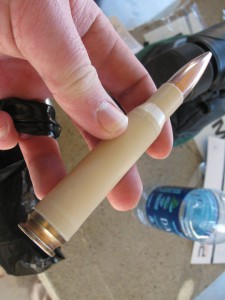 I don't remember the name of the company, but I believe they were either Utah or Idaho based.  Cost savings is a big benefit, but the biggest boon is the weight savings.  30% reduction in the weight of a loaded cartridge.  Now imagine the benefit of that when you are a soldier or sheepdog using Surefire's quad stacked 60 or 100 round cases.  Think that might be helpful? You bet it is.  At the Media Range Day, I was also told that the cases are easily reloadable.