This was one of those "What the hell, I'll try it" sort of things.  With a big "I'm glad I did" sort of results.   I was in the market for a new stock, but not exactly for a pistol grip… so I'd likely have passed this up until our friend Ryan Horst at Tannerman's Trading Company offered this to me.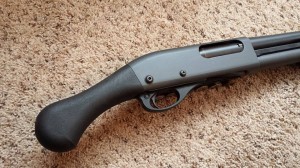 This is a synthetic product that is reminiscent of the results of the old school mod of chopping down a standard wood stock.  It's got that look and feel, but with a better finish.  Compared to some other pistol grip, or Breacher grips out there, this has a better look and feel.  Better in that it looks more traditional.  It is both solid and comfortable and during recoil, it feels more comfortable than most standard pistol grips out there.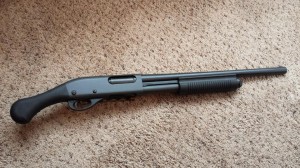 Mounted on a standard factory Remington 870 HD model, it helps make for a nice compact Home Defense weapon.  It begs to be used on an SBS or AOW shotgun.  The Raptor Grip is not for everyone.  The purpose is more specifically CQB in tighter areas, or for where you need to transport a potent weapon in as compact a package as possible.  This isn't for any Duck Commanders out there.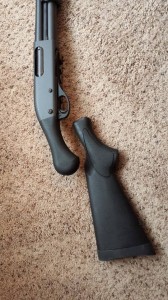 You can see it removes a lot of length from the weapon, while keeping a legal OAL.  Any shorter here and I'd have to be doing some ATF Paperwork.
Available from Shockwave Technologies.  For the Remington 870, NEF and H&R Clones, and IAC Hawk shotguns.   Also available for Mossberg 500 and those related shotguns.