Pride and Fowler Scopes.
PFI has sent us a couple rifle scopes.   Looking through the PFI RR800-1 – right next to the Zeiss 3.5-10 Conquest… Brighter? The Zeiss is a little bit brighter.  I'll give it that, but not by much.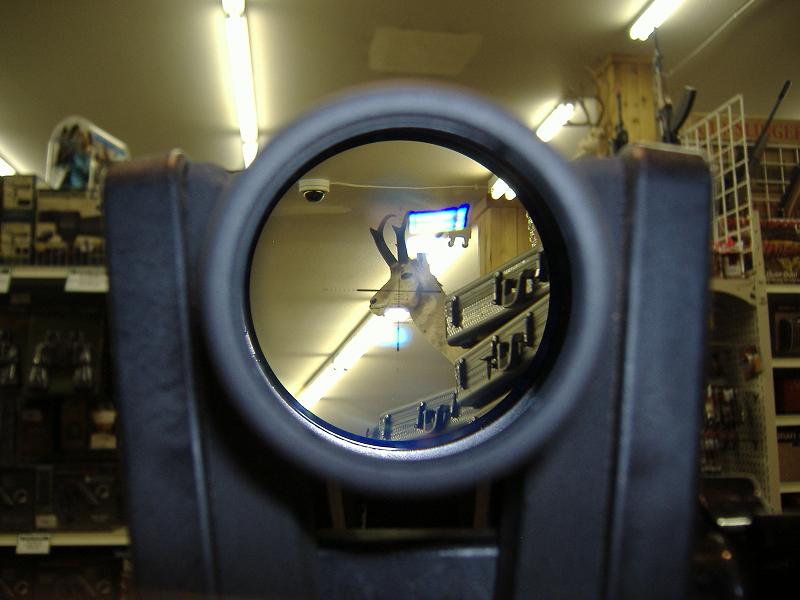 This is the Zeiss.  1 inch tube, second focal plain etched reticle.  It's a good scope and it works very well.  Clear? The PFI unit is just as clear. Crisp sharp contrast… this is great glass.  It uses a 30MM tube which allows for a naturally sharp image because you are not bending the light as much to force it through the smaller tube.  
I tried to take the photos as carefully as possible to make the images look as close to each other as I could.  You will notice that on the same power settings, the PFI does bring the target in closer.  If you zero the Zeiss at one power setting, and then change the power setting, the ballistic marks are going to mean different things.  This is the problem with ballistic reticles in scopes that use a second focal plain reticle.  You have to either use them at the max setting or at a factory specified… usually 10 power if it isn't at max.   The First Focal Plain reticle, or "FFP" is a big advantage for the PFI over the Zeiss.

Notice the reticle zooms as the scope zooms. 
This allows the reticle to maintain proper relation to the target and allows the ballistic plex to be used regardless of power setting.  HUGE advantage in the field, I can't stress this enough.  You could be overwatching a field of fire and you need to look at something that is close up, or you need a wider field of view… so you back the power down.  Or you need to zoom in to something to get a closer look, so you crank the power up… Well, the PFI scope is accurate whereever you have it.
Now I also noticed something… as I mentioned before… see the 3.5-10 Zeiss is no advantage over the PFI's 3-9. Because when I set them both to 4 power, I had to bring the Zeiss almost up to 5 power to get it to magnify at the same level as the PFI. So really they are about the same level regardless of what the dial is indicating. 
The Zeiss had a better eye relief by about a half inch – but this is not a problem considering these are mostly going on .308s and the like… not .300 Win Mags. Recoil isn't going to cause the scope to kiss you… because there just isn't enough of it.  PFI is working on a Magnum scope for magnum velocities and trajectories… but it isn't out yet.  Soon.
Now the biggest difference… The PFI is $595. The Zeiss is $725. That $130 difference… I really don't see 130 dollars worth of difference to get the Zeiss here. Especially since the Zeiss's reticle can only be used properly at full magnification.  Being completely objective – The PFI wins. And I'm saying that even though I'm a huge- HUGE Zeiss fan. This is not what I was expecting. 
Now, you guys know I had to buy a whole new rifle because I liked this PFI scope so much.    I picked a Remington 700 XCR Compact Tactical rifle in .308.   Not only did I buy that rifle just for this scope, but I took this combination to LRI, for some advanced training.  You can read about that here.  To sum it up, the PFI system is a true winner, and I'm completely sold on it.
Now that I am a dealer, it is my pleasure to offer these outstanding scopes to you guys.