At SHOT Show, I took a look at the new SIG 224.  And I'll be honest.  I didn't like it.
It's standard SIG, the way we prefer our SIG's.  Alloy frame, DA/SA with a Rebounding Hammer.  Add some night sights, and controls that were tweaked to still be used when made tiny… and you have a real SIG and not… well… not a P250.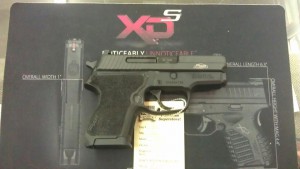 After playing around with it… it's grown on me.  A lot.  The gun is a serious Pinky Dangler, but thanks to the shape, texture, you can still get a solid hold on the pistol.
Which is good, because it's a .40 cal.  I like that.  And I like the P224.
But it's not the gun that I want.   I want something different.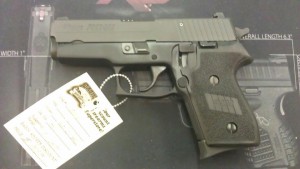 This is my Holy SIG Grail.  A P220 Compact SAS.  If you guys want to chip in and by me a birthday present… this is it.  I've wanted one of these for 20 years, when I first read of guys spending big bucks chopping down standard P220's.    And we have one now at the Gun Store I work at.  999.99.  Oh man… And there is nothing I can do about it thanks to the Bride's new Expedition.