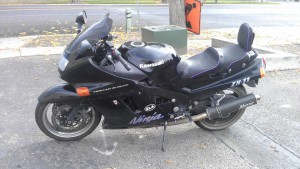 I hate this. I seriously do love this bike but I've finally accepted that my leg is not going to let me ride it anymore. Last time I rode it to work, it hurt far too much. After a long day on my feet, the ride home and the cold combined to put me into physical shock from the pain. I have a very unusually high pain tolerance level, and this was beyond it. I made it home, got the kickstand down, and damn near fell off the bike.
I just can't ride it anymore.  I love this motorcycle and it's going to kill me to see it go.  But I just can't do a Sports Bike anymore.
I will entertain reasonable offers for sale, but would prefer trade for another motorcycle such as a Cruiser with a fat engine and more importantly, forward foot controls.