There was this list online some place… that listed the BEST BURGERS in the NATION.  Every State had some entries…. And one of the ones for North Carolina was El's Drive In in Morehead City.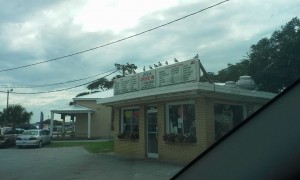 Right off 70 in Morehead, right next to some big old hospital.  I've heard their advertisements on the Radio a bunch of times… and then this list shows up.  I decided I had to try it.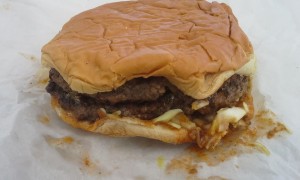 This is their Double El's Special with Slaw and Chili Sauce.  Supposedly their best burger.  Ordered a Coke and some onion rings to go with it.  The onion rings were pretty good.  The Coke was in a freaking can… and that Special Burger… It was… Special.  The chili sauce and slaw – was on so thin as to only serve to make the bottom bun soggy as hell.  You couldn't really taste it.   The bottom bun was like a wet napkin about the third bite.  The beef – there were two paddies, yes… But they were flavorless and dried out.  So I had a Dry and Soggy burger.  You know how you burn a paddy on a grill really bad and then slice off all the burned layers?  THAT is what these paddies tasted like.   Dry flavorless meat.   Quite seriously, this was one of the most disgusting burgers I've ever had in my life.  At least I had a 2 dollar can of Coke to wash it down with.
All is not lost at El's though.  I did also have an Oyster Burger.  Maybe it was good?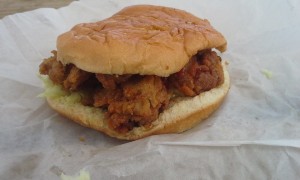 Nope.  What you can't see was that it was drowned in ketchup under that flaccid bun.  The oysters were fried waaayyy too long in the deep fat frier, and were about has tender as charcoal with bits of crust as hard as granite.  You could break your teeth on these things.  Oh, and if it being rocklike wasn't enough… the oysters were filled with sand… and small chunks of gravel.
Overall, El's Drive In was a most unpleasant place to eat.  Unpleasant meaning, flat out nasty.  The service was good though.  The lady was prompt to my vehicle and very nice.  But as nice as she was for a 50 year old Car Hop, I don't think I'll ever go back.   In fact – I really wish I didn't go in the first place.