A lot of gunners have been asking about these Jackets.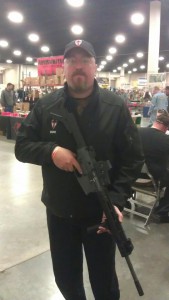 The Jacket is pretty dang awesome.  Let me break it down for you… 7.25 Oz, 90/10 Poly Spandex, Wind, Water, and Blood of your Enemies Resistant, Four Way Stretch, 9 Way Freaking Awesome, Zippered pockets, and makes you much more accurate.   The Crusader Logo is imbued with awesomeness, yet may offend certain people who don't like bacon.  Joe, Zack and I have these jackets… and we love them.  They look awesome, they feel awesome.  It's no heavy parka by any means, but it is warm and very comfortable.  We've all been wearing these pretty regularly.
The Jacket is 119.99, and you can order it through CrusaderWeaponry.com's Contact Page.  Just send Joe an email if you want it.  This is a Limited One Time Offer and we will never offer this jacket again.   So if you want one, now is the time to jump on it.