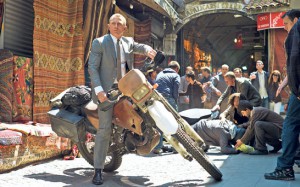 Skyfall.  Best. Bond. Ever.  We have important character introductions, breathtaking action, and Bond getting down on an Enduro.  I really enjoyed this movie more than any other James Bond I have ever watched.  It was well paced, directed, and it just worked.
Also, Daniel Craig is the best Bond ever to have played the role.  All other Bonds were cartoons.  Daniel Craig makes Bond feel real.  Human.  He bleeds, he gets scars, he hurts… he gets his ass kicked… and then he Wins because he's James Bond.   The UK's version of Captain America, but for the UK.  Their Hero has Cuff Links and under-powered inaccurate pistols.  Which is fine… and I envy England because in the US… we don't have such a character.  Jack Ryan?  (Tom Clancy) or XXX?  Captain America?  No… I want an American Bond.  Maybe that's why I like Daniel Craig… that Bigger Hammer approach gives American's something in common with Bond.
Either way, Skyfall is the pinnacle of the James Bond Universe.