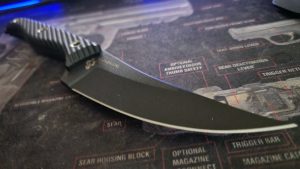 I've been looking at the Clever Girl for some time.  And I've met the designer some time ago at SHOT SHOW, and I liked him right off the bat and consider him to be a fine fellow.  He showed me his design, the Clever Girl, and I did like it then.  But I just couldn't afford to get one.  And then CRKT came out with their Forged by War series with proceeds going to Veteran Organizations, and blades designed by Veterans.  So I just had to get one of these.  But timing put things on hold until recently.  So as soon as I could… I ordered it.
Okay, so the blade came pretty dang sharp. The belly is nice and thicc, the way I like a Bowie knife… and the tip has a needle-sharp point, like a Bowie. It's just a clip point.
Note:
All Bowies are Clip Points, but not all Clip Points are Bowies.
Okay, back to the CG. Because of the belly and tip being like a bowie, I am naturally inclined to like it. Which I do. Very much so. The grip is properly grippy but doesn't snag. And the handle area is generous. Its shape allows the comfortable use in a number of different grip techniques.
Overall the design is a good combination of fine-edged blade and an overall rugged use knife. For under $100, it's a very good knife and a very good option.
CHANGES I'd Make to the Production Design: There are only two.
1. I would much rather have the grip scales being bolted on rather than riveted.
2. I would much rather have Micarta scales rather than G10.
I will put this blade up against the Cold Steel SRK, and Ka-Bar Marine Ka-Bar knives as being good Field Use knives. With the knowledge that the #1 use of such knives is Food Prep and whittling some fur sticks to get your fire started. This knife will do that just fine. The other purpose of say, blood-letting and sentry-removal type fantasy work – I'd say the Clever Girl could do that JUST FINE. Its sharp point will penetrate any part of the human anatomy with little problem and sever nerve and vein with equal ease.
Two thumbs up. Way up.