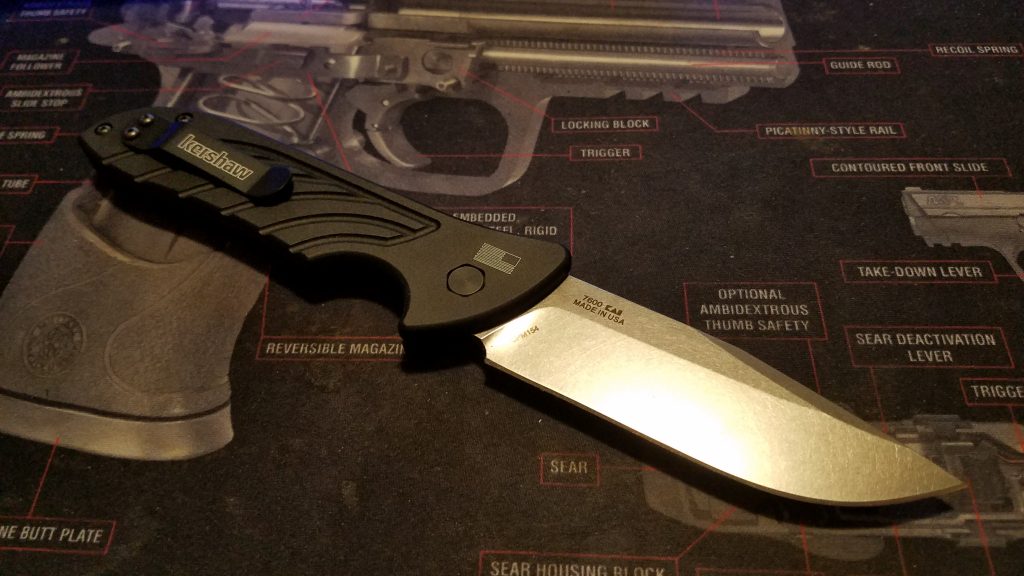 This is my second favorite folder of all time. (I've not given my #1 yet) And for me, this is kind of an odd duck in my collection.  It's an Auto.  It's one of the Kershaw Emerson Collaborations, as well as being part of Kershaw's Launch Series.  This is #5 out of a total of 7 knives in the series.  And I have no desire to collect all of them… maybe one or two more though… they are quite good.  The Launch 5 is a great knife for the money.  CPM154 Blade Steel is one of the better steels out there for a working blade.  It balances edge retention with a resharpening ease just shy of "I need special diamond hones for this" like some steels.
The blade flicks out with a quick, authoritative snap.  But not so harshly that the knife wants to jump out of your hand.  The knife is a Button Lock, so the opening button also unlocks the blade so you can close it.


The blade has a great shape.  It's a Clip Point, as I tend to prefer with just enough length to be appropriate for general use and defense.  Three and a half inches is generous enough, though I am fonder of lengthier edges.  But this will do.  Rather nicely.
The Grip though… Ah… That's where the real magic is.  See, this is a knife that you just want to hold in your hand.  I don't like repetitious opening and closing like it was some sort of dangerous fidget toy… But with the blade open, this knife is probably the most comfortable pocket-clipped folder I have.  I also like the fact that it's thin.  I don't like a thick handled folder.  Thick is good for Burgers, Milkshakes, and Booty…  Not for EDC Folders.
Speaking of EDC, this knife does so in a Tip Up orientation.  Which is the right way.  The clip can be moved to the other side for you Left Handed mutants.  But no filthy Tip Down carry – because that's wrong and you should feel bad if you like that.  The knife's heft is only 4.1 ounces, which is very light for a hand-filling auto.  This light weight is probably due to the aluminum handles.
Overall, I love most everything about this knife.


Now, let's talk about what I don't like.
I think The Button is rather small, and one must push it rather deeply to get it to deploy.  This is a "Safety Feature" some may say… preventing it from opening in your pocket.  Which is good.  I've had an auto open in my pocket once before with sticky results, and some pain.  However, the button situation makes this knife rather slow to get into action.   I've got a plethora of other knives that are faster, and none of them are autos.
I don't understand the fear of Push Button knives.  Some states make these kinds of knives illegal.  Seems to me, an asinine hold over law… akin to the ban on whale hunting and fishing from horseback in Utah.  But that's another topic.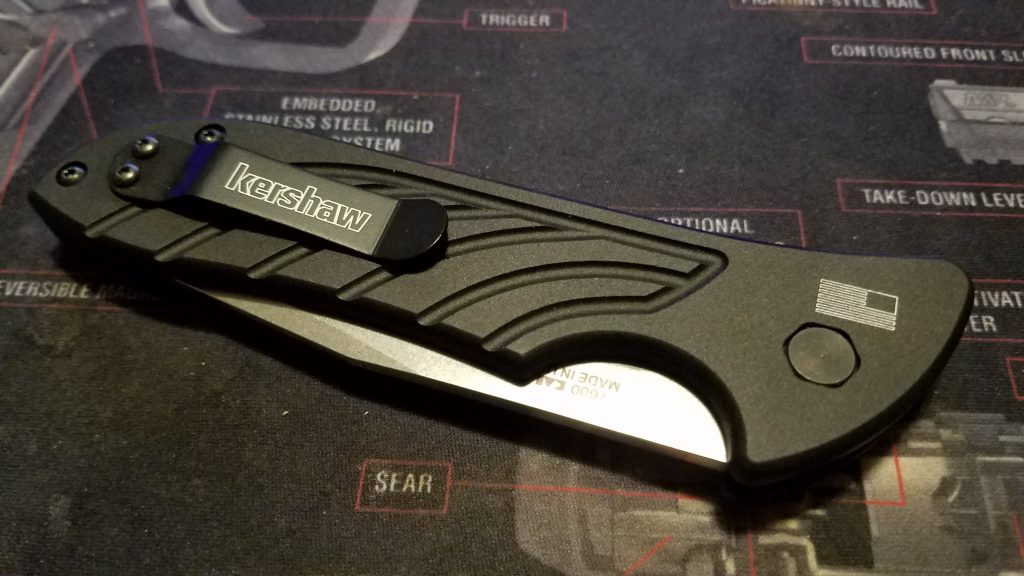 So, in short… It's not the perfect knife.  But it's a damn fine one.  Retail is about hundred and ten to a hundred and twenty-five.  Shop around locally or online.  (Factor Shipping!)