Any time I've been looking at any knife on Amazon.com, Eafengrow knives are always popping up as recommended items.  So tried to look into them and couldn't find anything via a Google Search.  Other than links back to Amazon.

Reviews are pretty much non-existent.  So, maybe they are new, or just no one cares about them.  But they are all cheap… and I was curious.  This knife here caught my eye, the EF227.  So I took the plunge.  A rather shallow plunge at that.

The design is the new popular modern Sheep's Foot design, or Reversed Tanto, or whatever you want to call it.  It looked cool and it's different than anything else I've ever owned.  And being under $30 bucks, I thought I'd try it out.  I'm glad I did… because this thing is a BEAST, and it seems… Seems… to be well made.  Solid.  Beefy.  And reasonably smooth.  It's certainly no Benchmade or ZT.  But if this knife had any other name on it, it would be priced at about triple of this thing's asking price.

One complaint I could have with this knife… is that it's a Tip Down carry, with no option to easily change it to tip up.  More of an annoyance than a problem, really.  I only like Tip Down with something like a Spyderco or something with a Spyderco Hole.  But that's just what I'm used to.  What I find most interesting is the Blade Steel is said to be "D2".  Normally we call it "D2 Tool Steel", but this is just "D2".  D2 is pretty much a Generic Term for a certain formula of steel that has a lot of variation.  The hardness can go from anywhere from 55 to 64 depending on the Heat Treatment.  Looking closely at the blade, it looks very much the same to another knife I have that is D2 with a Rockwell Hardness of 62.  If its heat treated the same as that one, I'll be pretty happy.  One thing about D2 though, is that it can tarnish and corrode a bit easier than some other blade steels, so right off the bat, I hit the blade with some oil to protect it.  It came rather dry.  Clean, with no sign of a problem… but still, I prefer some protection.  Now, I like some patina on a blade, but I'd rather that form naturally over some many years of use.  Not over a couple weeks because the bare steel was left unprotected.

There is an interesting scalloping of the handle, where you would find recess to access a Thumb Stud or Disk or something of that sort to help open the blade.  In this case, you only get the Flipper.  A stud would be appreciated, I think.  But the clean lines of it without, look nice.  This does give the handle a nice feel in the hand when you grip it though.   When opening with the flipper, it won't just snap up with just finger action… it takes a little bit of some wrist action in the flick for the blade to pivot into locked position.  The knife came out of the box reasonably sharp, but sharpness is inconsistent.   This is something that could easily be fixed with some stonework, so it's not an issue.  I have most knives resharpened out of the box anyway.   As it is, it passes the Paper Test and the industry standard Arm Hair Shave Test.

The Liner Lock engages the blade fully… providing as secure a lock as a Liner can get, and there's no blade play from a poorly fitted lock.  That's a good sign.  The scales are said to be G-10.  But they feel too smooth to be actual G-10.  Maybe they are G-10, but made with a different resin or something.  I don't know… But consider this knife was as cheap as it was.  There's room for forgiveness.  If I had paid 80 bucks or more for this, I'd be concerned.   But honestly, it's not that bad.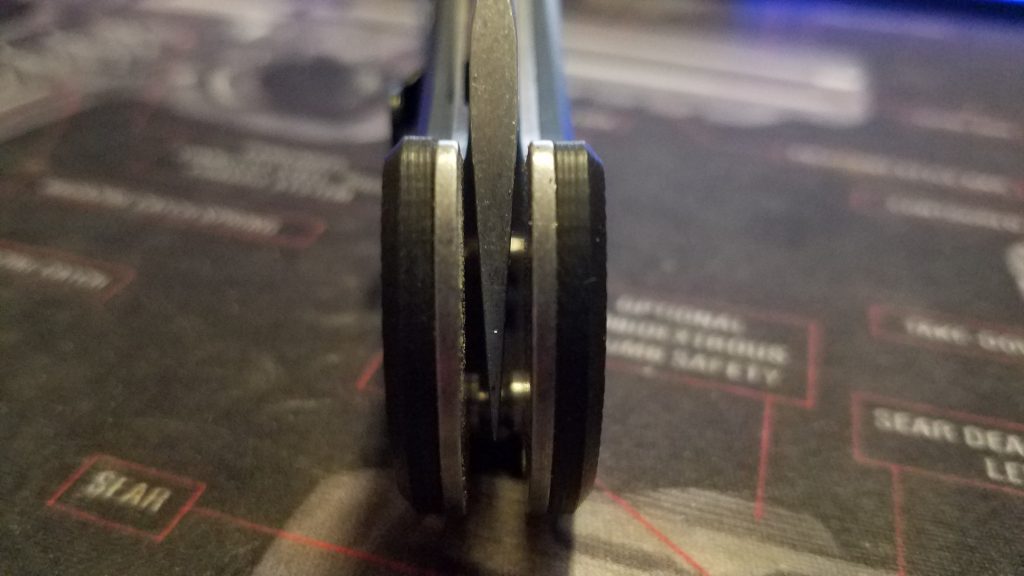 The blade is pretty much perfectly centered.  I've had more expensive knives come out of the box with a blade that angles to one side or the other.  Yeah, for an under $40 knife, I think this is a lot of Blade for the Buck.  How it stands up to use over time… well… That's yet to be seen.  I'll update this post as time goes on to see if my impressions change.


This knife actually makes me interested in some of the other Eafengrow knives.   I'd like to know more about the technical details.  Also, who the designer is.  Because some of the knives look like they are Knock Off's.  Specifically, there's one that's an almost line for line clone of a ZT.  Others look more original.  If anyone has a link to more information on these, hit it up in the comments.