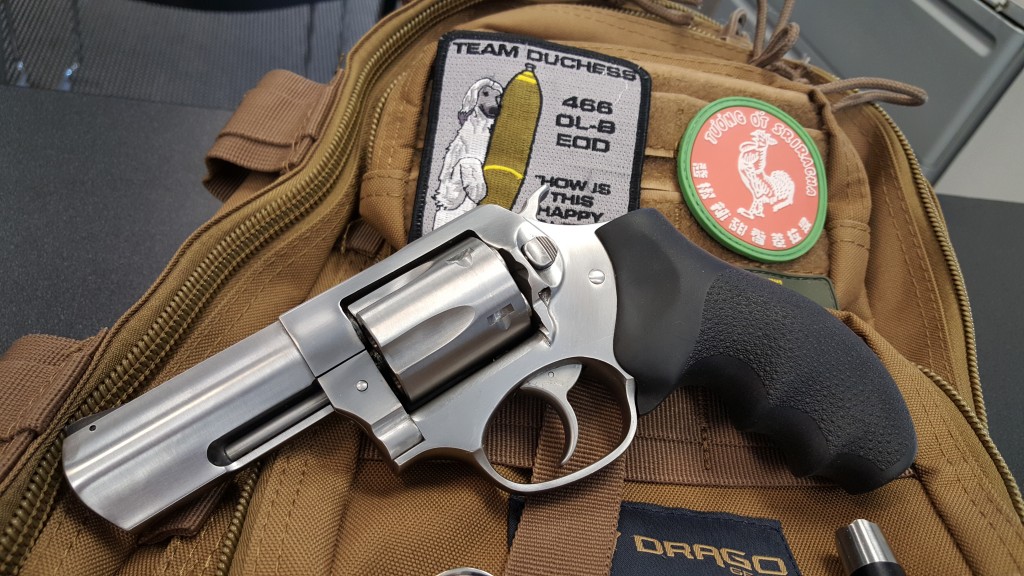 It's been fun packing the SP101.  Having a .357 Magnum on you is… what's the right word?  Liberating.  There's a certain feeling of confidence I'm getting with this SP101 that I've not felt since… Since I first starting packing.

As you can see from the above image, I've changed the grips from the factory squared grips – which honestly I didn't really care for – to these nice Hogue Monogrips.  The difference in feel is night and day.  This is almost a completely different gun now.  Not only does it feel so much better, but it actually carries better because the butt of the gun is not squared off, but tapers down nicely.  It hides better too.  It's just – better.   In firing, it dampens the recoil a bit better than stock too.  Not a whole lot, but it's there.
If you are still running factory – I seriously recommend the change.  Unless of course, these just don't fit your evidently Sasquatch-Like Paws.
Typically I'm packing the gun with 10 rounds standing by for reloading.  I do not feel like I'm at any disadvantage.  15 rounds of .357 Magnum is plenty for normal concealed carry.   If I need more, I'll get my backup gun… which is an 870 Street Howitzer.  If I need more than that – I'm calling the Cavalry.
The load I'm carrying remains the Federal 158 grain SJHP.  With which I am satisfied.  For the time being.  Until I am convinced something else is tangibly better in this application.   Normally I'm a Hornady fan or a PDX1… but .357 Magnum is a different animal altogether.  The bullets do not need to be so fancy.  Just heavy and fast.
When I get my holsters from Adams Holsters, I'll be packing the GP100 Match Champion as my main gun, and the SP101 will become the secondary.    As intended.   But for now… This little Magnum is serving admirably.