Point Blank Range had their Grand Opening Week last week.  From May 16th to the 24th.  This went along with NASCAR's RACE WEEK, which is a huge Broohaha in Charlotte, NC.
One of the things I did was to get Harley Davidson of Charlotte to come out – and they did!   They know I've been wanting a new bike, and they brought them.  Each of the ones I've been wanting.
One is a nice little Sportster Forty Eight.  Mini Ape Hangers (Which I am not all that fond of – but the riding position actually feels good), great aftermarket seat, Vance & Hines pipes and a Screaming Eagle Intake.  All tuned to run together nicely.  I like the Sportsters, and especially the Forty Eight model.  I will have one eventually.   As much as I love the look of them, that 2.1 gallon tank is limiting.    If I was to have just one bike – I don't know if I could live day to day with only a 2.1.  I need a tank that LOOKS like that one, but holds 3, or 3.5 gallons.  That would be perfect.
Then there's the Fat Bob.  In "Sand Camo Denim"  I don't get Harley's name for the paint, but it's a flat desert tan.  I really dig the twin headlights.  If I got the Sportster – I'd want to put lights like these on it.  In LED.  If possible.   But I love the look.  Reminds me of a vintage WWII bike, with some modern touches.  I'd name the bike "Rommel" and put Afrika Korps emblems on it.  I think these bikes are badass… and they ride very well.  Very balanced and planted.  The most Stable bike I think I've ever ridden.

Yeah, I have to post a second photo of this one.  Love it.  Just love it.
But then there is this one… The Breakout…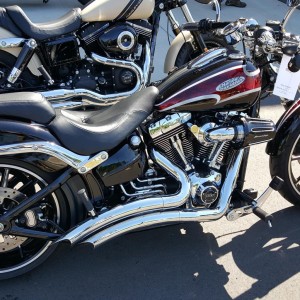 This image doesn't do it justice.  The red paint is just gorgeous.  As is that huge fat rear tire.  "Dat Ass"!   The Breakout is a dream bike.
I was going to probably trade in my car on that Fat Bob… the Wife said "Do what you want".  And then I go to do it – she's all "No, don't."
I love my car, it's very nice, but I need something that feels alive and a part of me.  Something with muscle.
Still looking…