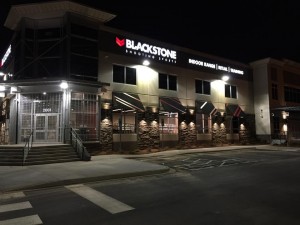 Blackstone Shooting Sports is a new Indoor Shooting Range and Retail location in Charlotte, NC.  It's using the very best range equipment and a new layout for selling guns.   It's going to turn every Gun Shop Stereotype on it's head.
Check out the website.  BlackstoneShooting.com
The name Blackstone has some history to it.  It's named after Sir William Blackstone.  Don't know who he is?  Our Founding Fathers did.
Robert Ferguson notes that "all our formative documents – the Declaration of Independence, the Constitution, the Federalist Papers and the seminal decisions of the Supreme Court under John Marshall – were drafted by attorneys steeped in Sir William Blackstone's Commentaries on the Laws of England. So much was this the case that the Commentaries rank second only to the Bible as a literary and intellectual influence on the history of American institutions".
Sir William Blackstone should be studied by our current Government Officials.    Blackstone's influence on the second amendment can not be ignored.   Blackstone Shooting Sports aims at being just as influential on the future of the second amendment.
This is why my postings have been rather sparse lately. This is why I moved to the Charlotte area… to be a part of Blackstone.