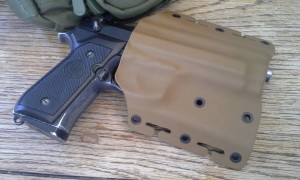 Joe at Crusader Weaponry has found some interesting tactical holsters that he wanted me to take a look at.  Having worked for G-Code Holsters last year, I have learned a few things about Tactical Kydex… not just from them but from everyone making it.  This stuff Crusader has partnered up with is different.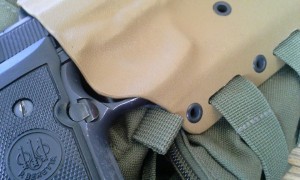 Pretty much all a Kydex holster is, is a thermo-plastic made of PVC Acrylic, extruded in sheets, cut and formed under heat and pressure to form a holster.  Simple stuff, really.  What makes it all complicated is how to get the holster onto your Tactical Gear or Belt.  Clips, loops, buttons, snaps, straps, and hooks… and then you add the quick disconnect stuff, which adds cost, complexity, weight, and bulk.
The company making this stuff for Crusader is Kinetic Concepts Tactical, or KCT for short.  KCT has take a rather clever approach that is both simple and easy to use – and it minimizes the bulk.  PALS slots. I like that.  Simple, no bulk, light weight.  It holds to the gear secure enough for Government work, but really doesn't take too much effort to take on and off.  I like that.  A lot.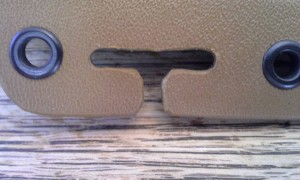 On a Chest Rig, anything on it adds bulk and that means you can't get as low as you may need… Or on a battle belt and things start snagging seatbelts and such.  You want it to be as flat as you can get it… And this is pretty much as flat a solution as I've ever seen.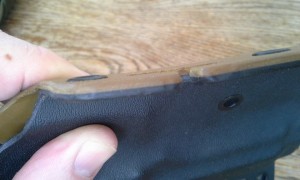 The quality is right up there with the rest of the Upper Tier stuff that's out there.  The holster is strong and very ridged.  Tough.  All the edges are blended out and I can feel no sharp edges anywhere.   The rivets are set proper and the lamination is about as flawless as you can get with Kydex.   What I like the most about it… It's cost.   It's only $45 bucks for most of the color options, and there are a lot of color options.  For 5 bucks more you can get some camo patterned options.  Multicam, Digital, Kryptek… Oh, and Carbon Fiber.  Nice.  Here's the thing… You don't need to buy anything else to go with it.  It's just a holster and not a system you need to get to know.  It's just a holster.  Simple.
Available for all your popular tactical type handguns.  If your gun is not listed, well, I did say popular… Just kidding, give KCT a shout and see if they can hook you up.   Good folks there at KCT, and they want you to be satisfied with your gear.   They have Mag Carriers too.   Check them out here.   Use the Discount Codes.   Get geared up.
This is good kit.  This is going on my battle belt…