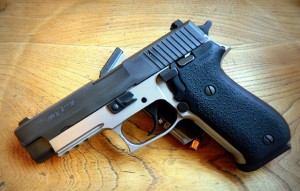 DA/SA Service Grade Automatics.   Who's your favorite?  Okay, we're talking the Brand on the whole, considering all the related models and variations they make.  Who's your Top Brand and why?
SIG?
Beretta?
CZ?
Other?
The Traditional DA/SA auto seems to be in the gold years with more and more trainers and advocating striker fired guns with uniform trigger pulls from first to second shots.  Glocks, M&P's, an XDM's being the Striker Triad.   But I think that the DA/SA platform still has its place, and I still love them.  Especially for Open Carry, Duty Service… They are big, menacing, sexy, and very stable and accurate.   Outside of 1911's I shoot them them best.  A lot better than Safe actions or DAO guns.
I'm thinking the Holy Trinity for DA/SA's is SIG, Beretta, and CZ.  Across the board, I think the Beretta Brand takes the lead for consistent quality.   From what I've seen and dealt with with 8+ years behind a Gun Counter and… ahem… a few more years of shooting… I've seen problems with all of them.  I've seen far fewer though with Beretta.  But that's not just the thing. It's also how good they've been.  How smooth the triggers and slides were.  How tight they locked up.  I don't think any brand for any type of auto is nearly as smooth as Berettas.  SIG's are second and CZ is 3rd overall for smoothness.
However, for an out of the box trigger – the very best DA/SA trigger I have ever felt was on a CZ 97B.   Just incredible!  But other CZ triggers left me disappointed.  Same with SIG, overall very good, but not quiet as good overall as SIG's I've fired.  One SIG though, a 229 SAS…. Oh man.   That was truly a great trigger.   Flip side, the SIG's have shown some triggers that were less than stellar.
Beretta though wins in the same way a Race Team wins the Championship overall without having actually taken first place.
My 92FS had a very good trigger to start out with.  I swapped the main spring for the "D Spring" and it got a lot better.  It's not a GREAT trigger.  This makes me wonder, why doesn't Beretta just use the D Springs as standard?  Because the difference was dramatic!
I love the 92.  I love the SIG 220/226/228/229.  I love the CZ P-01/SP-01.  Overall though, I think that Beretta takes it.
What are your thoughts?