Hands down the Golden Era of Muscle Cars was 1966 to 1974 .  Those years were the most awesome years in the history of the world.  Through time frame American Car Makers were not afraid to try new things… to be as badass as they wanted to be.   Forget the little British Sports Cars… with their silly little go-cart motors.  American Muscle Cars were all about the big beefy V-8 engines and body stylings that blow a girl's skirt up just sitting at a stoplight at idle.  Muscle Cars were Awesome.  All of them.  But some, are more awesome than others.
Here's my list in No Order.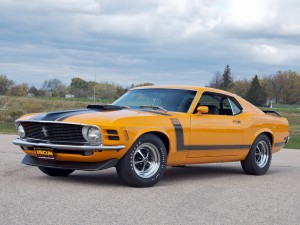 The 1970 Boss 302 Mustang.  This car was Ford's top of the line Mustang the year I was born.  Maybe why it's been my favorite.  The Elinore and the Bullit Mustangs are undoubtedly cool… But 1970 302 is my Unicorn.  It's one of those cars I'd go back in time, buy several, and put in a Time Capsule for my own pleasure back in the future.  In 1971 though, the Mustang really started to go to hell.  The '71 and later Mach 1 body styles were disgusting, and then in 74 the Mustang II took over… *shudder*  But in 1970 the Boss 302 Mustang was at the zenith.  Handled better than the Boss 427, and actually tracked faster.  It was just good.  Ford hasn't been able to hit again since the 2015 Mustang… which will become the best Mustang Ford has ever made.  But we'll see if it stands up to the mighty 1970 Boss.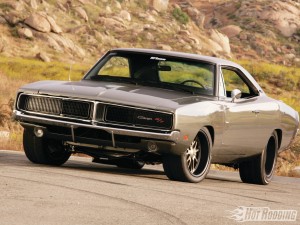 The 1969 Dodge Charger.  The classic Dodge Charger had great lines.  Streamlined while still being "Muscle Car".  Bo and Luke Duke?  Admit it – you watched The Duke's because of the girl in the short shorts that drove the Jeep.  We all did.  But if you painted your Charger bright Orange to look like the General Lee – You suck at Life.  Because of that one TV series – there is a drastic shortage of good classic Chargers.  And too many of them are Orange.  The show burned through so many of them, it's criminal.  But there are some left out there in the wild.  And if you find a good one – It's a rare thing of beauty now.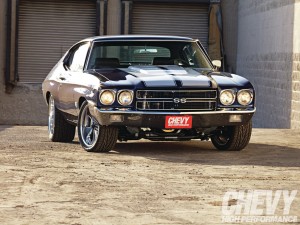 This is the Baddest of the Bad.  The 1970 Chevy Chevelle SS 454.  The most powerful factory installed engine of the Muscle Car Era.  It was Big and Bad and embodied everything the Muscle Car stood for.   If it was any more powerful it would come with it's own Wookie Mechanic and would outrun Imperial Cruisers.  These are the real "SS" cars that Chevy seems to have forgotten about.  Later year versions of the Chevelle would feature only one headlight on each side – but I don't think those are quite as menacing as the dual headlight cars.  The SS looks like it wants to throw you a beating.
You can see these cars in action in DEMOLITION MAN, and JACK REACHER.  Two movies which are worth watching just for the Chevelles.  That and Sandra Bullock's ass in her Police Uniform in Demolition Man… Wow.  Just wow.
Yes.  That was my reaction when I first saw that.
Edit:  I was wrong.  As pointed out by an astute reader, Demolition Man featured the Olds 442.  I was wrong…  My memory was faulty.  And I've not watched DemoMan in a couple decades.  Here's the Olds 442:
They do look very similar, but the front grill is distinctly different.   Forgive me… I was distracted….
Moving on… The GTO.  Pontiac's Greatest Thing Ever.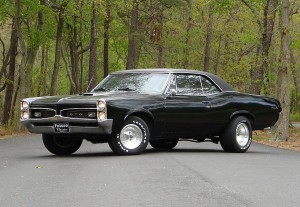 Specifically the 1967 Pontiac GTO.  This is THE CAR… This is one that defined what a Muscle Car was all about.  It set the rules.  It established the very definition.  This was Muscle Car Purity.  There are a lot of different versions of the GTO, but in 1967 Pontiac got it just right.   The right balance of size, weight, output, and looks.  As far as car designs go, it shows that it's a 60's era car, but it's a design that has aged very well…. so well in fact, that they actually look better now. These are the Jane Seymour's of Muscle Cars.  When one drives by, you can't help but to stare at it.  There is just something about it.  Just like Jane Seymour.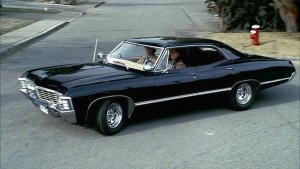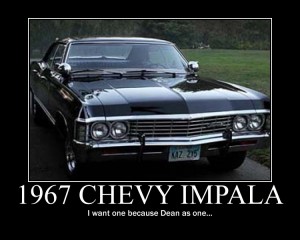 The TV Show Supernatural has 3 Leading Characters.  Sam Winchester, Dean Winchester, and the '67 Impala.  This is the show that eclipsed Firefly as The Coolest Show on Earth.  It has Classic Rock Music, Guns, Monsters, and this Impala.  The Impala is just flat out cool.  Old School Muscle Car, with refined looks and a nice feature that makes it practical for every day use.  Four Doors.  Looking at my other choices – this is the only one with four doors.  I find that kind of odd…. as I don't have anything against four doors, but most look like grandmother's sunday barges.  The 67 Impala has something rather menacing about it that later Impalas lost in the 70's… and really have never regained.
Out of this short list – If I could pick one that the Gods of Torque and Recoil could bestow upon me… It would be between the 302 Mustang and the Chevelle SS 454.  I think I'd have to take BOTH.  And of course the GOT&R would nod sagely and give me both… Because they are just awesome that way.
Honorable mentions going to the '70 AMC AMX, the '71 Olds Cutlass, and the Buick GSX.  But really… those cars were just taking cues off of these cars.