…With this Beretta 92 in my hand.  And I'm looking at it…  It's just gorgeous.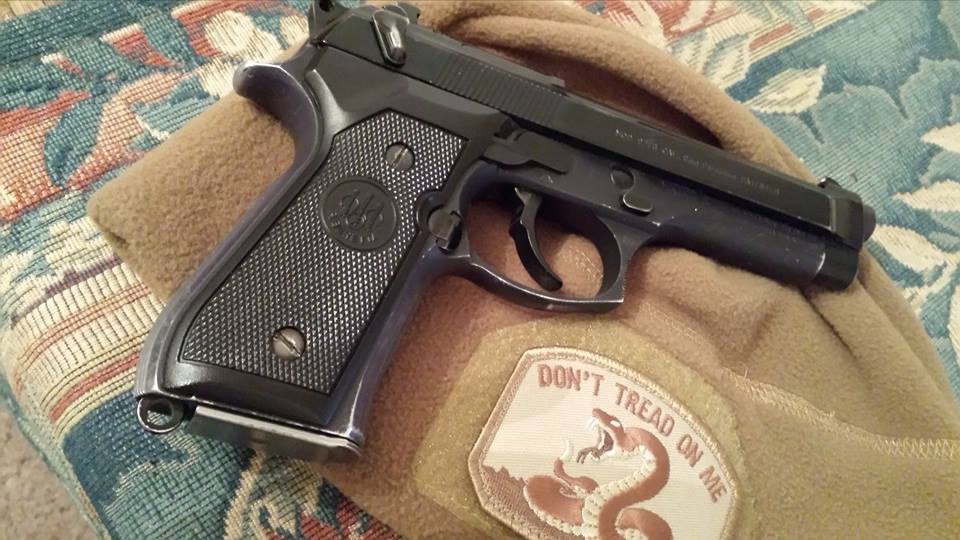 It's worn.  Well worn.  But still tight and smooth and accurate… just a great shooter.  My wife and I ran an errand real quick.  She had a Red Box video she needed to return.  Well, we get to the Red Box location, which isn't the best spot in town for hanging out at a vending machine at night.  She's about to bounce out… and turns and says, "Okay, you got my back."  And then she says "How are you going to back me up?"  She hadn't noticed I had a weapon on.  Plus 1 for the G-Code OSH Standard on a simple Paddle.  I was able to jump up, slip on the OSH+Paddle, and away we went.  No bothering with threading a holster through the belt loops or such.  Speed to Action… I like that.  I've become quite the fan of the paddle.
I said, "9mm, Baby."  To which she nodded and then exited the OPC.  (Ogre Personnel Carrier) There was a couple very suspicious and thuggish looking types milling around at the corner, from which the Red Box isn't very far away from.  I felt quite confident with the big Beretta.  Stoked up with a 17 round mag of Hornady Critical Duty.  The thug with his hands in his coat pockets and a hood up over his head would not have been able to have reached my wife before being completely ventilated.
I wasn't even worried about that though.  The thug was more concerned about the bitter cold than my wife with her DVD of Much Ado About Nothing, as Directed by Joss.  It was a bone chilling 46 Degrees F out there.  Brrrr… I actually turned on the heated seats.  But that's another story.
Sitting at home now, with the Beretta… I have to say, there is something about the 92.  It's large, solid construction, it's heft, I have to say… I really like it.  A lot.  It's just about the only DA/SA gun that I actually like anymore.  At least, like enough to want to buy one, or to bother taking out and shooting.  The way the action feels like it's on roller bearings… so smooth… so… creamy.  And thanks to Slipstream and a D-Spring from Beretta, the trigger feels just as smooth as well.  This old battered Beretta… It's just gorgeous to me.