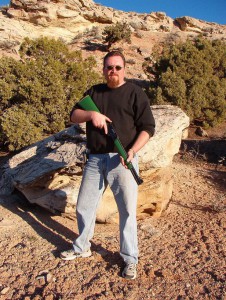 This is "The Green Marlin" which became the Cowboy Assault Rifle, or CAR-30-30, or Tactical Lever Action.  It started out as a stock Marlin 336C which had some serious water damage to the stock that ruined the finish.  I was going to do a John Deer logo on the side of it, but then I decided I hated that color.  The gun its self though was straight up awesome.  Barrel cut down to 16 on the dot, and an 11 Degree Target Crown and a 1 Piece firing pin and the Trigger Happy trigger from Wild West Guns.  The result was a 30-30 that would print 1/2″ groups with LEVERevolution ammo.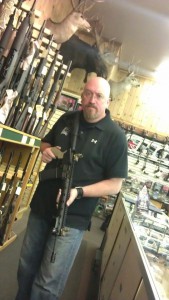 This is what replaced my Crusader Modified Rock River… which no matter how good or accurate it was, it was too damned heavy.  This is a very lightweight build that Gundoc tweaked for me.  Slipstream treatment and a Battlecomp round out the details.  Topped with an EOTech, to get on target fast.  Accuracy is more than enough to make me laugh wickedly.  Yeah, I'm not giving anything up on the Rock River's accuracy.
Now, I'm holding a Rossi M92 in .44 Mag.  And I do love the 92's, the gun in the photo that brings this to the front of the pack, is the one Evil Jim is caressing.  That's his SBL.  This is the .45-70 Thumper that forced me – FORCED ME – to buy a Guide Gun of my own.  I don't have a pic of me holding mine, so this one will do.
Notice that out of all these rifles in this post – most are Lever Actions.  There's a good reason for that.  I love Lever Action Rifles.  Especially one's with some modern touches that enhance the Lever's ability to hit – and knock the shit out of the target.
It was asked, "What is Crusader going to do if there is another Assault Weapons Ban and you can't build AR's anymore?"  What will we do?  We'll do custom Lever Actions.  I'm one of the few Trainers out there that actively train  – an encourage – Lever Actions.