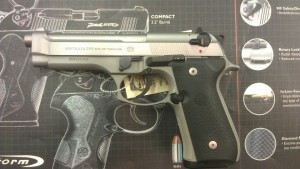 On the Gun Forums, a lot of guys have talked about how good looking a Gun is.  When it comes to Sexy Handguns, this one right here really is it.  Let's compare it to what others have already compared it to… Monica Bellaluci.
See, that's the Beretta.  Classic beauty that really doesn't need anything else.   It never gets old to look at… and the more you are around it, the more you love it.
And after you shoot it… Oh yeah.  This is what it's all about.
Wait… But what about that Taurus PT92?  Sure, it's design is based on the Beretta.
It's form is based on the Italian… It tries to look like the Italian.. Tries to act like the Italian… But it isn't  Italian…  I'm not really sure what it is.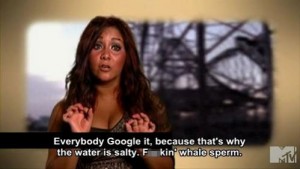 The Taurus is Brazilian… Which in the gun world is kinda like being from New Jersey.  I'm not saying that this is necessarily a bad thing.  It's just that it isn't the real deal.  It's not even close.  The more you look at the Taurus, the more things about it start to become irritations.  Spend too much time with it, and you start to hate it.
Now, both guns have their fans.  But there is a drastic difference in build quality.  Now which one do you want to take home and show your Dad?
I think I'm kinda sick to my stomach now…