Last week I did something I probably shouldn't have… Okay, I know that's a list that goes all the way to the floor, but I'm talking about one particular thing.
I pulled a Beretta M9 out of the case and really looked at it again.  I felt it.  Cycled it.  Stripped it down and examined it closely.  Now, the Big Beretta is nothing new to me… I've owned two of them but they never really inspired me or made me feel all that interested in them.  I got them just because.
Now, looking at this Beretta… Feels good in the hand.  Big and Curvy and Sexy… It's been growing on me.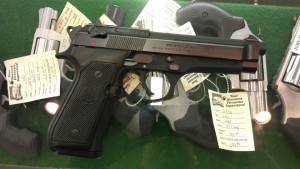 Here's the odd thing.  I'd want it in 9mm.  I'd pretty much just keep it stock save for Slipstreaming.  Because really they are fine just like that.  Huh.  I don't know why I'd even want the thing.  I prefer SIG and Glock… Single Actions over Doubles.  But I am digging the M9 right now.  I just don't know why.