My AR has been bugging the hell out of me.  The thing was heavy as hell.  No, seriously, we're talking at AR-15 Carbine that weighed more than a Springfield M1A National Match or a SOCOM II.  It just weighed a friggen ton.
Here's what it looks like now.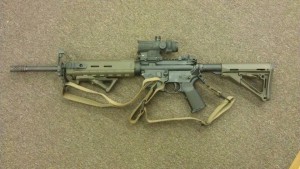 The parts I took off were really not all that heavy to be honest.  The Surefire Rails, Weapon Light Mount and Light, the Rail Covers, Tango Down VFG, and the VLTOR Stock.  It's just that the MOE stuff with a Pistol type Weapon Light are much lighter.  The problem though really stems from the fact that my AR has Rhinemetal 120mm barrel on it off an M1 Abrams.  Or so it feels like that.  Even stripped, it was still a touch heavier than an M1A Standard Synthetic.   My Take Offs on a normal gun would be just fine.  But that's not the AR I have.  Mine is a freaking Tank.
Anyone want the goodies I took off the gun?
The Surefire Rails are "Mid-Length", not Carbine or Rifle.  Who wants to make an offer on the parts?  I take Cash in Person or PayPal and I'll ship it to you.  I'd like to start the bidding at a hundred bucks.