At our last Tactical Carbine class, one of the student's AR's went down.  Hard.  Here's what it looked like.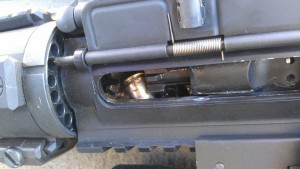 SPORTS, TAP RACK BANG… Did nothing.  Try to guess what happened before you click for more.
This is the result of a case head separation.   What you see is the head of a 5.56 case partially wedged above the bolt face.  It moved inside the action with the bolt.  Normally if a case head gets blown off, the front half of the case is stuck in the chamber.  This didn't happen.  We examined the chamber and determined that the case was not in the chamber… it had been ejected and was found on the ground at the student's firing position.  Well, somewhat to the right of the firing position.  It took a Multi-Tool to get the case head out of the action.  No damage was done to the gun, the shooter, or anyone or anything else.  Also, the ammo in question was the FEDERAL 500 round bulk pack 5.56mm XM193.  Decent enough ammo.  I've shot this ammo by the pallet and never had any such problems myself, and I've never seen any problems with it.
We also had another odd malf, this time with an AK-47.  Headshot Willie's 5.56mm Bulgy AK had a unique issue where the ejecting case didn't get ejected, but got somehow wedged under the bolt, down in the trigger mechanism.  WTF?  One of the GUN DUDES estimated that it could have been stuck down in there for months of shooting and never knew it… because it's an AK.  Well, when it was finally dislodged, the gun ran just fine of course… and the case its self looked like a pissed off Rottweiler chewed on it.