I'm a gear whore when it comes to some things… especially Lights.   I love a good flashlight.  Primos has an interesting new Weapon Light out now.  It's designed for Night/Low Light Predator Hunting. Check it out.
It seems fairly large for a weapon light, but it has some good qualities that make it worth a look.  Rechargable is a nice feature, as is the 220 Lumen LED head, and a 5 hour run time.  A High Low switch would be able to extend that life cycle by double I'm sure.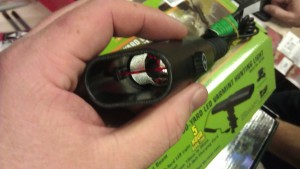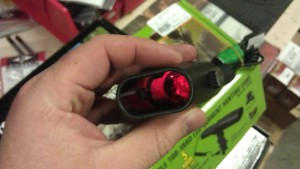 On the side is a small dial switch that turns a red filter to give you a 220 Lumen white light, or red light as the situation warrants it.  Well, maybe not red… more light a soft pink.  The white light is nice and bright, but I'm not sure our example is 220 lumins.  Maybe half of that… but it's still nice and bright.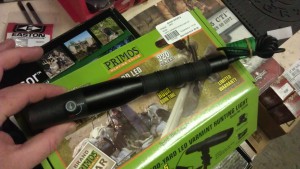 It has a very narrow profile and could potentially do very well on the side of a Quad Rail, or on the top with a rifle with a fold down flush front sight post.  However, this light from Primos has a couple problems I'm not real pleased about…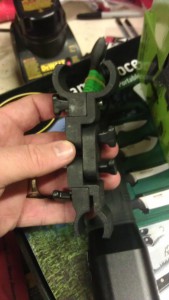 The mount is crazy tall.  It's designed to clip to your 1″ Hunting Scope Body, and be able to rise above the scope's objective bell and such.  Which is find for what it is… but a low picatiny mount would give this some nice tactical applications, not just hunting.
The light does come with a pig-tail switch.  But if you have charged batteries in the light, the light is on.  When you attach the pig-tail switch, you can then turn it off.  Oh, it also turns off if you plug it in to recharge… but then you can't have the pig-tail switch plugged in when you do.  This retarded power on/off thing is a deal-breaker for me on the light for my purposes… but might be just fine for yours, so it's worth looking at.  I think to make this light more ulititarian would have been to include a simple freaking ON OFF BUTTON.  Also, it's not water proof.  WTF was Primos thinking here?  Fix these issues and give it a low profile pic mount and you could have a heck of a good Weapon Light for the Tactical Shooter, not just the Critter Shooter.